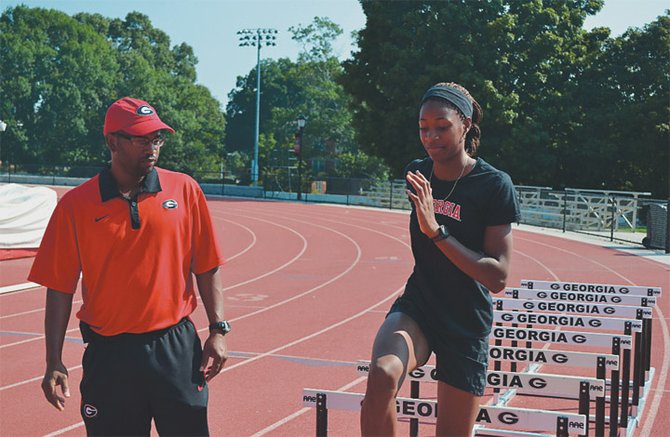 By BRENT STUBBS
Senior Sports Reporter
bstubbs@tribunemedia.net
OPEN the doors at the University of Georgia. Here comes Shaunae Miller.
For the past two weeks, the 2010 IAAF World Junior and 2011 IAAF World Youth 400 metre champion has been getting adjusted to her new surroundings as she prepares for her freshman season as a member of the Bulldogs women's track team under her Bahamian assistant coach George Cleare.
Fresh off her debut at the 2012 Olympic Games in London, England, where she was forced to quit in her heat of the 400 after suffering a slight injury, Miller said she's eager to move into the next phase of her life - college.
"School has been going great so far," said Miller in a candid interview with The Tribune on Sunday. "I'm getting used to it. At first, it was a bit crazy with all of the bus system, getting lost, but I'm getting used to it and the weather is great down here. So everything is going great."
The 2012 graduate of St Augustine's College, where she starred for the Big Red Machine, said except for the cafeteria "the different variety of food, especially all of the snacks and cakes, which I haven't been touching because of my diet," she's making the necessary adjustments.
As a high profile athlete entering the campus in Athens, Georgia, Miller said she got a lot of help from the student body in terms of helping her to get around, so it wasn't difficult for her at all.
If there was any difficulty Miller had, it would have been the end of her season where she ended up losing her world championship title with a fourth place finish in Barcelona, Spain, in July before she didn't get to complete the first round of the 400 at the Olympics in London in August.
"My training with my father (Shaun Miller) went great, but injuries do happen in track and field and I experienced a few of them this year," she said. "So I'm just grateful that I survived the season."
Miller lowered her junior national record to 51.52 seconds as she prepared for what was anticipated as a banner year for the 18-year-old phenom. It was also the fastest time recorded this year by any Bahamian. To show her versatility, Miller also ran a PR of 11.41 in the 100 and she clocked 22.70, which was the fourth and third fastest times respectively on this year's Bahamian performance list.
Under her father, she progressed from 11.69 in the century, 23.70 in the half-lap and 51.84 in the full lap, all in one year.
The business management major said she's now with coach Cleare so she's expecting some bigger things in 2013, although they have not really sat down to plan her course of action. Cleare said the goal right now is getting Miller adjusted to be in the collegiate environment.
"She's adjusting pretty well," he said. "The focus right now is getting her adjusted to college life. She's gotten into all of the classes that she needs to. She's getting around campus. She's gotten lost a few times, but what we are trying to do is let her figure it out for herself. She seemed to be settling in and getting ready to be a student."
Cleare, now into his second year at the University of Georgia as the assistant coach responsible for the women's sprints, relays, jumps, hurdles and combined events, said this is a transitional period for Miller before she gets bogged down with the nitty gritty of the hectic collegiate career.
"She continues to grow, so she's battling some injuries," Cleare said. "So we're assessing her right now because if she continues to grow at the rate that she's doing, her body gets soft and so we have to be very careful. But she stops growing, she should have an exciting time next year. So we are just focusing on making sure that she's all right right now."
In the past two years, Miller has grown from 5-feet, 10-inches to about 6-1, a feat that has heads turned just as the times she's been running.
"The eyes of the world will be watching her, but to have a Shaunae Miller at the University of Georgia is really exciting," Cleare said. "We are looking for some exciting times over the next few years."
Looking back at her season that ended with a bit of disappointment, Cleare said Miller is "very intelligent and she understands the world of track and field. She was in great shape, she prepared well under her father and coach (Shaun Miller), but she just got some injuries.
"But she's looking forward to a much better season next year. She's looking forward to moving on."
And so is Shaun Miller, who took over coaching his daughter from her high school coach Dianne Woodside two years ago.
"I expect her to do well. She's pretty much out grown me. The next level where she's at, she will have a lot more help because she's in a much bigger environment with all the help she can get," he said. "I'm also glad that she's away from all of the status from the BAAA. I'm hoping that she will get a new start over there.
"I don't care what nobody says, but the present administration wasn't any help to her, especially when she got hurt and they were talking about having to go through a trial and fitness test. So although I miss her a lot, I'm glad that she's off and I know that George Cleare will take her to the next level."
When asked if she misses home, Shaunae Miller quickly quipped: "Yes, I want to go back now. This is my home for a little while. But I miss my family and my friends first of all. Then of course, I miss the (Bahamian) food."