By NATARIO McKENZIE
Tribune Business Reporter
nmckenzie@tribunemedia.net
CRUISE passenger spending in New Providence is up roughly 52 per cent for 2012 to-date, according to a senior Ministry of Tourism official, who estimated that cruise arrivals would increase 5-10 per cent year-over-year.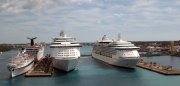 Carla Stuart , director of cruise development, said: "We have to continue to find ways to generate more spend. The passengers are coming in and they are coming off-board.
"Our ratio in Nassau is about 96 per cent off-board. In Grand Bahama it's probably like 70 plus per cent. The people are definitely coming off the ships.
"I think if people find what they like that is reasonable, they will spend. The majority of our cruises are all Bahamas cruises. I would say 60-70 per cent of our cruises are all Bahamas cruises, meaning they are basically coming only to Nassau, Grand Bahama and the private islands," she added.
" Our major competition would be when we have the seven-day cruises, which would be the remaining 30 per cent of the cruise liners which come here. These people are coming not only to Nassau but other places in the Caribbean, where they are able to reduce their prices even more than we are." 
Ms Stuart told Tribune Business that cruise arrivals for 2012 thus far were still high. "For the first two quarters of the year things have been pretty good," she added.
"We might see a minimal decrease and then it will pick back up, but at the end of the year everything should balance out with an increase over last year.
"Based on our statistics the spend in Nassau has gone up to $111 from about $73, and Grand Bahama is also up $70-plus dollars from $54 dollars, so we have seen increases in spend in Nassau and Grand Bahama."
In terms of cruise visitor arrivals, Ms Stuart said: "We are expecting to see an increase this year, conservatively speaking probably 5-10 per cent."
Cruise visitors to the Bahamas are up 9.4 per cent for the five months to end-May 2012. The latest statistics provided to Tribune Business by the Ministry showed that cruise visitor arrivals to the Bahamas, by first port of entry were up 11.2 per cent for the 2012 first quarter, and 6.3 per cent for the first two months in the second quarter.
For the Bahamas as a whole, March saw the greatest growth year-over-year in 2012 at 15.9 per cent, followed by May at 14.4 per cent. Nassau/Paradise Island continued to generate the bulk of visitor arrivals and growth, the 1.002 million cruise passengers it attracted in the first five months of 2012 some 14.7 per cent ahead of 2011 figures.
For the 2012 first quarter, cruise passenger arrivals to Nassau/Paradise Island were ahead by 11.9 per cent, and for the first two months of the second quarter they were up 19.7 per cent.
May, in particular, saw a 33.9 per cent growth from 130,530 to 174,830.
As for Grand Bahama, cruise passenger arrivals by first port of entry for the first five months in 2012 grew by 2.5 per cent, from 275,628 in 2011 to 282,602 this year.First quarter numbers were up 4.1 per cent, although this growth eased to 0.3 per cent for the first two months of the 2012 second quarter.
As for the Family Islands, total cruise passenger arrivals for the first five months of 2012 were ahead by 5.5 per cent, standing at 744,057 compared to 705,023.
    Regarding indications of ship diversion and changes as a result of Tropical Storm Isaac Ms Stuart said the Carnival Ecstasy called on Freeport on Saturday, arriving at 9am and departing at 5pm.
She noted that due to adverse weather conditions, the Balearia Bahamas Express did not sail into Freeport on Saturday and will resume sailing into Freeport on Tuesday.
Due to the storm, the Carnival Liberty was in the port of Nassau on Friday and the Carnival Valor called on the port of Nassau on Saturday.