By NEIL HARTNELL
Tribune Business Editor
nhartnell@tribunemedia.net
The Bahamian commercial banking industry has calculated that the Government's proposed Mortgage Relief Plan will cover just $165 million in past due principal and accrued interest owing, a sum equivalent to just 36.7 per cent of all non-performing home loans.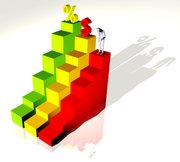 While no banker would go 'on the record' on this particular issue, Tribune Business was told by multiple well-placed executives the sector had calculated that only 1,200 distressed borrowers would qualify for the Relief Plan as currently proposed.
Calculations by the clearing banks have estimated that these borrowers would only account collectively for $165 million in delinquent principal and interest owed, a sum that is dwarfed by the total value (principal) of non-performing mortgages alone.
The Clearing Banks Association (CBA), which represents all Bahamian commercial banks, told Tribune Business in February 2012 that some $450 million worth of mortgages were non-performing, meaning they were 90 days or more past due.
The $165 million covered under the Government's Mortgage Relief Plan is equivalent to just 36.7 per cent of that $450 million figure, and while any help for distressed borrowers and the economy is welcome, the scheme as is will not likely make a huge dent in the problem.
Indeed, the Central Bank of the Bahamas' June monthly economic update placed the total worth of mortgages in arrears - those 31-90 days past due, as well as non-performing - was just over $660 million.
As a percentage of that sum, the $165 million covered by the Mortgage Relief Plan pales into relative insignificance, at 25 per cent - one-quarter - of the total.
Meanwhile, several leading bankers have spoken out on other aspects of the Government's Mortgage Relief Plan and its potential companion,the Borrower's Protection Bill.
Tanya McCartney, FINCO's managing director, told Tribune Business the mortgage lender was in a "wait and see position" with regard to the Relief Plan, adding that its potential implementation had been a factor in Board discussions on whether to pay a 2012 third quarter dividend.
Hinting that the Relief Plan embodied much of what the commercial banks had been doing already to aid troubled borrowers, the FINCO head expressed hope that its implementation would encourage more homeowners to come to the bank and work out restructuring arrangements with it.
"The reality is it's going to be difficult to tell," Ms McCartney said of the Mortgage Relief Plan's likely impact. One of the considerations for us when determining whether or not to make a dividend payment was we wanted to see what the impact would be.
"In the whole system there are approximately 1,200 persons who may be qualified. We are in a wait and see position. We have engaged, through our parent Royal Bank, in this process in determining guidelines and giving input."
She told Tribune Business that the Mortgage Relief Plan "embodies the true spirit of what we've been doing since the start of the recession", namely reaching out to troubled clients, conducting credit assessments and "in good faith" working out lower payments and restructuring loans.
"Hopefully it will create an impetus for persons to come in once again, and we can see to what extent they're able to benefit from the Mortgage Relief Plan," Ms McCartney told Tribune Business.
As for the controversial first draft of the Borrowers Protection Bill, Paul McWeeney, Bank of the Bahamas International's managing director, told Tribune Business it would have to be "completely redrafted" if it was to become workable and gain the support of all stakeholders.
Emphasising that he felt the Government would agree with that position, Mr McWeeney added: "They've already indicated it has to be significantly redrafted. No two ways about that.
"We've all provided some comments to the redrafting of that Bill. My anticipation is that it will be significantly redrafted before we get the new Bill."
The Bank of the Bahamas chief agreed that concerns already expressed over the Bill, which currently makes it extremely difficult for banks to realise their security on distressed mortgage assets by exercising their power of sale, were "valid points".
These include the impact on bank solvency and capital ratio calculations; interference with private contracts; further clogging of the Supreme Court system; and an increase in the cost/reduction in the availability of credit.
"I agree totally," Mr McWeeney said. "It can't all be a one-way street. If the borrower has recourse, the lender should have the right to appeal.
"It [the Bill] has to be completely redrafted. I wouldn't put any substance in the first draft, and I'm not looking at that until we get a new draft.
"I'm confident the Government is fully in agreement with that position. It has to be fully redrafted and revised before we get to any document that matches the spirit and content of the Bill."
While acknowledging that the Government's general direction was "appropriate", Mr McWeeney said any legislation to protect borrowers "has to be practical and functional, and do no harm to the system".
"It has to be sustainable as well," he added.