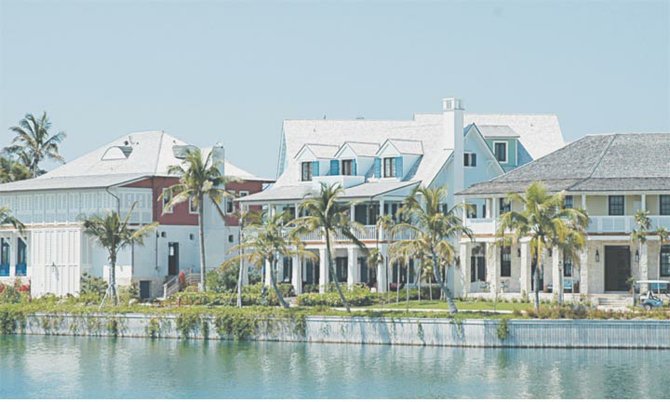 By NEIL HARTNELL
Tribune Business Editor
nhartnell@tribunemedia.net
The Baker's Bay Golf & Ocean Club project is expecting to create another 100 construction jobs within the next two-three months, its developers telling Tribune Business they expected to invest another $25-$30 million in infrastructure build-out up until 2015.
Dr Livingston Marshall, senior vice-president of environmental and community affairs for the Abaco-based resort/private members club, told Tribune Business that Arizona-based Discovery Land Company had invested some $375 million into the project's build-out since 2005, creating multiple benefits for Bahamian companies and the Public Treasury.
"Infrastructure throughout the property is 80 per cent complete, with the 18-hole championship golf course and state-of-the art marina now fully operational," Dr Marshall said, describing Baker's Bay as "a significant force in helping to get the economy of the Bahamas back on a solid footing.
"Collectively, our overall development represents some $375-plus million invested thus far, of which some $40 million has been paid to the Bahamian Public Treasury over the past seven years (land purchase, Stamp taxes, business license, real property taxes, lease fees, etc).
"An additional anticipated infrastructure investment of another $25-$30 million is expected over the next two-three years."
Dr Marshall said Baker's Bay had sold some 150 home sites, collectively worth $350 million, to private investors and homeowners. A further 250 lots remain for sale, he added, with their disposal creating a potential $40 million-plus Stamp Tax boost for the Bahamian Treasury.
"We are especially proud of our progress in the home construction arena, where 33 condo and estate homes have been completed, 16 new units are under construction, and 35-40 new starts are planned for the next 12-18 months ," Dr Marshall said. "Another 60 units [will start] over the following 18 months.
"Importantly, these new housing starts represent at least 200-250 Bahamian jobs, along with almost $300 million in constructed homes."
Expanding on the Baker's Bay project's economic impact for employees, sub-contractors and local companies, Dr Marshall said some 400 Bahamians were currently in full and part-time employment on Great Guana Cay, generating a $12 million annual payroll.
"Another 100 employees are expected to be added through construction jobs within the next two-three months," he told Tribune Business.
"We have worked with over 200 vendors throughout the Bahamas, with the vast majority being based in the Abacos, at an average annually spending of approximately $15 million."
The 400-strong workforce includes those employed by both Baker's Bay directly and contractors working on amenities such as private homes.
"Baker's Bay is continuing with the construction and other entrepreneurial opportunities that will present greater economic benefits for the Bahamian people, and especially the local Abaco communities," Dr Marshall said.

"Baker's Bay employs 250 Bahamian workers and works exclusively with Bahamian licensed contractors. Under 12 per cent of our workforce is US expatriate, and in fact we continually train and promote our Bahamian staff."
Discovery Land Company's proven track record and solid financing have been key factors in enabling it to ride out the recession's worst effects, as has been its existing client base - a key marketing tool it will have utilised to promote Baker's Bay.
Pointing out that the developers' efforts had helped to enhance the Bahamas' "overall profile in the international community as a first class homeowners and overall tourism destination", Dr Marshall said Discovery Land Company's vision for Baker's Bay was to "make our staff, owners and the Bahamian people proud of what we have created together and, ultimately, be the best private club in the world".