By DANA SMITH
Tribune Staff Reporter
dsmith@tribunemedia.net
BAHAMAS Union of Teachers president Belinda Wilson voiced her support of the government's school policing programme, saying the presence of officers on school grounds will aid in conflict resolution and combat instances of students carrying dangerous weapons.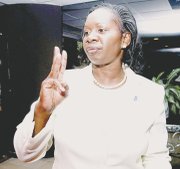 "Our executive committee, we have discussed this and we are pleased to partner with the Ministry of Education, the Ministry of National Security, and more particularly with the Commissioner (of Police Ellison Greenslade)," Ms Wilson said at a press conference at Police Headquarters for the unveiling of the programme.
"I want to also note the Commissioner tried very hard last year to have this initiative developed because we had a meeting and we agreed that the police officers will assist, and they did, so I'm happy now to see that the programme is going to be expanded."
Ms Wilson said she wants to stress that stationing officers in schools will aid administrators and security guards already present in resolving disagreements and gathering "intelligence".
"The police are not only going to be there for crimes, but based on the information that I have, they will be there to help with conflict resolution. They will be able to identify some of the problems, prior to the problems happening," she said.
"You will have intelligence on the ground in the school. When you talk about a cutlass-wielding child, when you talk about the child that was in an altercation over the weekend and gets to school early on Monday and stashes a gun, a knife, a dagger, a cutlass – that's not the teacher's job."
Asked if teachers are seeing such scenarios presently, Ms Wilson said: "Yes we are. That isn't anything new – we've been seeing it. So we're saying now if the police are there and they're able to complement the security officers then that should really be able to cut down on the incidents that we've seen, so we're happy about it."
Education Minister Jerome Fitzgerald announced last week officers will be stationed in schools across the islands come the start of the new term in September.
He said the programme would in no way diminish or make obsolete the authority and responsibility of administrators, teachers and security officers. Rather the officers would complement the disciplinary programmes and strategies already in place.