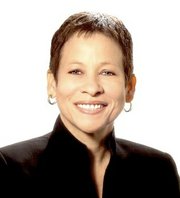 By DANA SMITH
Tribune Staff Reporter
dsmith@tribunemedia.net
THE government is moving "aggressively" to see to the bus system unified by this time next year, Minister of Transport and Aviation Glenys Hanna-Martin said.
Speaking outside Cabinet yesterday, the minister also revealed a new school bus system, which hinges on the unification, is also a "work in progress".
"I don't want to put a time-line on it, but I will say that it is the intention to move forward aggressively and progressively within the next 12 months on this matter," she said. "It's an issue that's been discussed for years, it is a vexing and compelling issue."
Mrs Hanna-Martin said traffic congestion on the streets of New Providence is in part explained by the reluctance of the public to use jitney services because of safety and efficiency issues owing to the sheer number of jitney owners.
"We have 500-plus individual owners running our public transportation system in New Providence," she said. "It is not rational. It is not conducive to an effective system.
"It causes questions about the safety of the system, the efficiency of the system, and because of those questions a lot of people do not participate in the busing system.
"That lends itself to congestion problems. It's something that has to happen, so we are committing that in an aggressive way, preferably the next 12 months, we will have gotten to a point that will reach close to a completion for this matter."
Speaking on school bus services, Mrs Hanna-Martin said: "The school busing is one component of the unified busing system which is public transportation in general, so it's tied, or married to, or integrated within that.
"We're not going to be able to really progress with that aspect as we envisioned it until we address the bigger picture which is the overall unification of the bus system."
Two months ago, Minister of State for Transport and Aviation Hope Strachan revealed the government is "quite a long way along the road" to taming the country's chaotic jitney service with the creation of a unified public transportation system.
She said the unified system involves creating an "umbrella company" where shares are offered to present stakeholders as well as to the general public.