By LESH
Tribune Features Reporter
acadet@tribunemedia.net
The highly anticipated return of the controversial artist, who recently remade his image as an anti-violence champion, will not happen this weekend.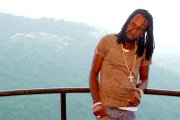 In a sudden turn of events, Dancehall star Mavado will once again be a no-show at a scheduled concert in Nassau, calling into question his credibility amongst Bahamian audiences. This time around, Mavado's managers claim issues with "travel documents" are responsible for his cancellation.
However, promoters of the "Increase the Peace" concert say the show will go on. They have booked Dancehall artists Tanya Stephens and Capleton to headline the show in Mavado's place.
The concert, to be held Saturday at Club Luna is the highlight event for the Increase the Peace initiative created by 24KT event promoters. Cheldin Brown, 24KT management director, said the campaign is aimed towards bringing about an "anti-gang and gun violence" message.
Speaking on the Mavado's cancellation, Mr Brown said:
"Basically with Mavado, his management team contacted us, and right now he is having issues with his travel documents. They said it would be sorted out any day now, but I erred on the side of caution and I just decided to postpone his performances until a later date in the Fall and bring Capleton and Tanya Stephens instead."
Mr Brown said 24KT promotions had no idea Mavado's travel documents would be an issue just days before the concert, because as far as he knew, everything for the concert was already "covered and cleared."
He said almost $60 to 80,000 has been spent on the concert so far. The issue with the travel documents was something, even Mavado, thought would have been settled by now, Mr Brown said.
"He told me that it is taking a day to day process, taking longer than it was expected. And I noticed last week there was a big show in Guyana called JamZone that he was supposed to perform to, and he didn't appear at that show either because of the same travel documents issue," said Mr Brown.
Noticing that Mavado was a no-show at the Jamzone concert in Guyana, Mr Brown said it was then, when he decided to err on the side of caution and make a change of plans quickly.
"I wouldn't put the Bahamian public through that because one thing about 24KT is the fact that we are going to deliver," he said.
"With this change, I wanted to bring someone who hasn't been here for a while, but everyone knows their music, which was Capleton. Bahamians love Capleton and the culture music, and Tanya Stephens is really for the females, they always appreciate her. Most of them can sing her songs word for word with her. They are crowd's favourites," said Mr Brown.
While Mr Brown said the change of plans was beyond a promoter's control, some party goers thought otherwise. Discovering the news by the change of the concert's flyer via Facebook that read "Capleton and Tanya Stephens Live at Club Luna, September 1," locals began to share their thoughts.
Some said:
"I thought Mavado was in concert at Club Luna. What is going on, what happen to Mavado?"
One local told In Ya Ear supporter said: "I already bought my ticket and I am still attending but this is a shame. Mavado's team and the promotion team over here is to blame because if this travel documents thing was an issue for a while now, then I don't think posters or radio commercials should have been on the air saying he is coming."
Another local added that she was not surprised when she heard the news. She said: "Mavado couldn't enter the Bahamas from years ago, and no one wants him here though. Have you heard his lyrics? Every woman should be banning him from ever coming here. I was never a supporter of his music."
With different views, a devoted Mavado fan added:
"My thing is, I wanted to see Mavado, but the show must go on. I respect the promoters for bringing a back up. Everybody making noise about this issue, but some things are beyond anyone's control. If you was going to support Mavado and don't want to go anymore then that is your choice. If you still plan to go then I hope you enjoy."
When asked if he thought the Bahamas is loosing its credibility for bringing in big name artist like Mavado, Mr Brown said it happens, but again, this is something a promoter has no control over.
"As far as our situation here, everything on our end was covered; it is just that I felt uneasy with the travel documents predicament. I am not going to disappoint the Bahamian public, where everyone comes out to a show, and the promoters suddenly tell you that the artist didn't show or he missed his flight. I am going to do is protect the Bahamian people and protect my image by offering a sure alternative," said Mr Brown.
The prices for the concert have been lowered and Mr Brown said people can look forward to the same excitement they had planned to receive from Mavado's performance. He said now patrons have two artists to enjoy.