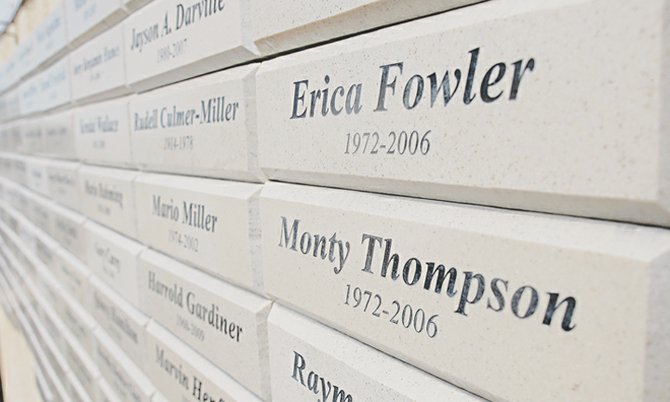 By SANCHESKA BROWN
Tribune Staff Reporter
sbrown@tribunemedia.net
BISHOP Simeon Hall, Pastor of New Covenant Baptist Church, is inviting relatives of murder victims to submit their names to be placed on a memorial wall "so they will always be remembered".
At a press conference yesterday, Bishop Hall said the wall is an impressive yet sorrowful reminder of the serious level of crime in this country.
"On the occasion of the third anniversary of the erection of this wall, we are asking persons who have had family members murdered to memorialise them in a dignified manner. Family members should call us with names and we will have those names placed on the wall," he said.
"I have seen and felt the cries and pain of persons who had family members snatched away by the demon of murder.
"However, it is my observation that in the past several  months there has been a noticeable decline in murder and serious crimes.
"We are turning a corner on a nightmare that has plagued us for some time. I believe that Urban Renewal is having a positive impact on the Bahamian community."
Cynthia 'Mother' Pratt, co-chair of Urban Renewal, said even though the occasion is a sad one, she is also happy that progress in being made in the fight against crime.
"I am so happy to see the amount of corporate citizens who have contacted us to donate monies toward Urban Renewal, many business have called along with various other organisations – too many to name. I did not realise how many organisations we have in this country that have been fighting crime in their own positive way," she said.
"There are some people, a small group, that was hoping Urban Renewal failed. But I say we can sit in our ivory towers and look and say 'I am not going to get involved' but if we don't do something before long they will go to the ivory tower and get you.
"That's why we are fighting as a team – because it is about us the Bahamas and if Urban Renewal fails we will all be responsible because we were able to do something and we didn't," Mrs Pratt said.
Bishop Hall said there will be a special service at 10.45am on Sunday, September 16 to unveil the memorial wall.