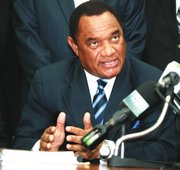 By NEIL HARTNELL
Tribune Business Editor
nhartnell@tribunemedia.net
The Prime Minister will next week receive the first draft of an economic development strategy, and how to execute it, a Cabinet minister yesterday saying this would enable the Bahamas to "maximise returns" from foreign direct investment (FDI).
Emphasising that the end goal was "sustainable" growth and better economic management, Khaalis Rolle, minister of state for investments in the Prime Minister's Office, said the absence of such a strategy had undermined Bahamian-owned businesses and diversification efforts.
Telling Tribune Business that the Bahamas had previously failed to link industries targeted for growth with the overall economy, Mr Rolle, a former Chamber of Commerce president, said the Bahamas Investment Authority (BIA) had already begun to tackle its weaknesses.
Explaining that the effort had expanded beyond the initial goal of developing a sustainable business plan for the BIA, Mr Rolle told Tribune Business: "It's become a lot more involved than I initially planned, but as we go through this process we identify more deficiencies that we need to correct in terms of how we approach investments and how we approach management of the economy.
"If we look at what it takes to be successful in any economy, you have to have a focused approach, and clearly identify areas and sectors for development.
"The Bahamas hasn't done any sector scanning for many years. The obvious output from this effort will be a framework to execute an economic development strategy."
He added: "A part of the business plan will be the construction of the framework for an economic development strategy which requires the relevant research, the relevant sector scanning, and getting everyone involved....
"It's all about sustainability. The first draft is going to be available next week for the Prime Minister. It will modernise our approach and maximise returns."
Mr Rolle told Tribune Business that one of the issues associated with the Bahamas' FDI model was that the benefits that should have flowed to Bahamian small and medium-sized businesses (SMEs) from large projects, such as tourism and real estate developments, had been "minimal".
"If you look at foreign direct investment activity throughout the Bahamas over many years, there's not the [alignment] in terms of benefits for SMEs," the minister explained.
"The benefits have been minimal. With this level of FDI, we should have a strong SME sector. We should have businesses that are strong and vibrant, and they should have survived this bad economy a lot better than they did."
And Mr Rolle said the failure to properly diversify the Bahamas beyond its 'twin pillars' model of tourism and financial services was due largely to an inability to link growth sectors, and their benefits, to the wider economy.
"I hope to achieve economic sustainability, better management of the economy, and a pathway for real diversification," he told Tribune Business.
"The reason why we spend so much resources, and not adequately diversify the economy, is because we don't have an economic development strategy.
"What we do is analyse a potential sector, but not analyse its relationship to the overall economy, so we don't have the research to make good quality, sustainable decisions.
"You look at our food import bill. Agriculture is a natural area for diversifying the economy, but we haven't identified how to do it."
Mr Rolle said the benefits of this work would be felt more in the medium to long-term, rather than the short-term.
Emphasising that he planned to bring techniques used at the Chamber and in the private sector to the task, Mr Rolle said the BIA was already working to improve its processes.
"There are some things the BIA could be doing a lot better, and we've identified those," he told Tribune Business.
"They include modernising our approach to project management, lacking knowledge on what's going on with all these projects that come into the Bahamas, being able to identify where the key opportunity is for investor participation, and having an investment promotion strategy as opposed to activity."
Mr Rolle said the BIA and government were "finalising a schedule" for an investment promotion tour in the Far East "relatively soon", along with activities in the Bahamas that would "excite" local investors.
While not going into specifics, he added that the BIA had "quite a number" of investment projects before it, including proposals in sectors such as manufacturing and the "staple" tourism/hotel industries.
"We have quite a number of renewable energy-related projects," Mr Rolle said, saying waste-to-energy was the leading category.