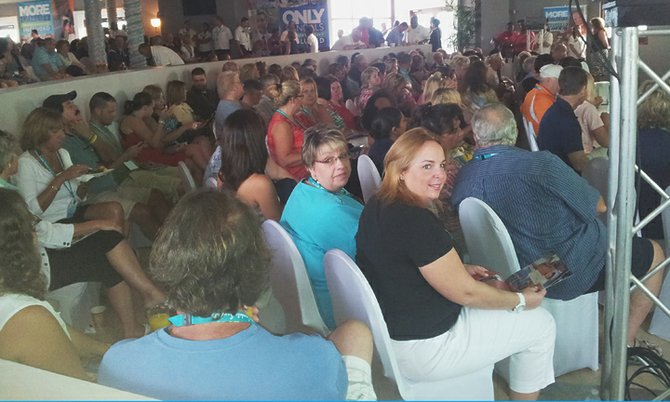 By CHESTER ROBARDS
Tribune Senior Reporter
crobards@tribunemedia.net
SANDALS Royal Bahamian hosted almost 450 travel agents this past weekend for a grand awards ceremony, while announcing the expansion of the Sandals brand through a recent acquisition in the Turks and Caicos.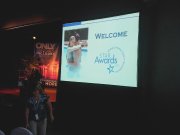 Minister of Transport and Aviation Glenys Hanna-Martin attended Sandals' "Star Awards" dinner Saturday evening and praised the travel agents for their continuing dedication to the struggling travel agency industry.
"I wish to commend firstly all of you for staying ahead of the game, so to speak, in a highly competitive environment where, in truth, you could have become dinosaurs but instead you dug your heels in and refined and improved upon and brought innovation to your craft," Mrs Hanna-Martin said.
"As a result, not only have you preserved the market niche for the travel agent and the art and science of travel advice but your advice and expertise has brought a level of enjoyment in depth and breadth to millions of travellers worldwide which is unmatched."
She also lauded Sandals for continuing its programme with the travel agents and for its continuing commitment to the Bahamas.
"Sandals however must be commended for recognising and understanding the invaluable and important contribution that travel agents make to the tourism industry worldwide and no doubt to its own properties here in the Bahamas and elsewhere," she said.
"In pursuance of this Sandals has sought to strengthen and cement relationships with travel agents and agencies worldwide such that this collaboration has assisted in bringing the beautiful island of Exuma, one of the islands of this archipelago, to the world and the city of Nassau to the global tourism market along with other lovely countries of the Caribbean. For this we are grateful to Sandals."
Chairman of Sandals Gordon "Butch" Stewart resoundingly thanked the travel agents Saturday morning for their dedication to the Sandals brand.
"Agents in this room have been our backbone for 31 years," said Mr Stewart. "Everybody in this room is my friend."
Mr Steward revealed during his morning meeting with the travel agents that Sandals recently acquired the Veranda Resort and Residences in The Turks and Caicos in order to expand its Beaches resort on along Grace Bay.
"Agents are simply over the moon with this good news and we sincerely thank Governor Todd, Premier Dr Rufus Ewing and the entire democratically-elected Cabinet for their ongoing support of Beaches Resorts which made this acquisition possible," said Stewart.