By NEIL HARTNELL
Tribune Business Editor
nhartnell@tribunemedia.net
A FORMER National Insurance Board (NIB) chairman expressed "grave concern" to Prime Minister Perry Christie over suggestions it was about to appoint a company owned by a Cabinet Minister's family as its 'broker of record'.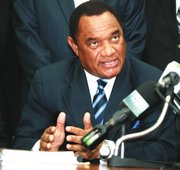 In a June 28, 2012, letter, Patrick Ward said A. Scott Fitzgerald Insurance Brokers and Agents had not participated in the formal re-tender process for NIB's property and casualty insurance business.
Following extensive inquiries with insurance industry contacts, Tribune Business can confirm that A. Scott Fitzgerald Insurance Brokers and Agents is owned by the mother and family of Jerome Fitzgerald, minister of education, science and technology. But there is nothing to suggest he or his family have done anything improper in relation to the NIB matter.
Meanwhile, Mr Ward's letter warned that the plans to re-tender the insurance contract, on the basis that there was a previous 'conflict of interest', would cause "a substantial increase" in costs for NIB "under circumstances that are...... less than transparent and fair".
The letter was among a batch of documents filed with the Supreme Court by currently-suspended NIB director Algernon Cargill, who has seemingly been engaged in a fierce power struggle with chairman, Greg Moss, since the Christie administration took office in May 2012.
The documents relating to the insurance matter show:
The June 28 letter, sent two days before Mr Ward formally stepped down as chairman, indicates the Prime Minister was made aware of some of the problems at NIB more than four months ago. But he appears to have done nothing about it until the issue exploded - and is now possibly out of control.
Mr Cargill, in an October 8, 2012, letter to Mr Christie also requested "an urgent meeting with you to discuss emerging corporate governance issues" at NIB. It is again unclear whether this meeting happened, or if the Prime Minister did anything.
Mr Moss and his NIB Board sidekick, Patrick Davis, effectively threatened a revolt against the decision by Shane Gibson, minister of labour and national insurance, not to cancel NIB's existing insurance contract with Bahamas First.
Mr Moss said he would "formally express my dissent" at any NIB Board meeting called to discuss the issue, although he agreed to carry out any directive issued by the Minister.
Mr Cargill's Supreme Court affidavit, and Mr Ward's letter, said the decision to re-tender NIB's general insurance business had largely resulted from the fact that the existing policy was underwritten by Bahamas First, having been placed through the carrier's 100 per cent-owned subsidiary, Nassau Underwriters Insurance Agents & Brokers (NUA).
Mr Ward is president and chief executive of Bahamas First, and the Board appointed by the Christie administration perceived this as creating a potential 'conflict of interest'. Mr Cargill, though, in his affidavit said Mr Ward recused himself from any Board discussions on the insurance issue, something that could be confirmed by meeting minutes and NIB's external auditors.
Mr Ward confirmed the same in his letter to the Prime Minister, adding that he had largely "refrained" from involvment in NIB matters post-May 7, and had only stayed on as chairman until June 30, 2012, at Mr Gibson's request.
He told Mr Christie that the outcome of the general insurance re-tender, on June 22, 2012, generated the same outcome as the original tender held the previous month. It confirmed "a huge savings if NUA" was retained as the provider, Mr Ward said, with Mr Cargill's affidavit putting this amount at $800,000.
However, Mr Ward told the Prime Minister that "should matters run their course, NIB will be getting anything but a fair and open market price". He added that he had been informed that NIB was seeking to extend the existing NUA/Bahamas First cover for a second month, the policy having expired on May 31, 2012.
"As a result of the above, there has been a growing chorus of concern in the marketplace, and one in particular is of grave concern," Mr Ward wrote. "It is my understanding that NIB is intending to appoint A. Scott Fitzgerald Insurance Brokers and Agents as the broker of record for NIB, notwithstanding the fact that this firm did not submit terms in the re-tender exercise.
"If NIB does proceed with this course of action, it will result in a substantial increase in the annual cost of its insurance programme for the year under review, under circumstances that are, to say the least, less than transparent and fair.
"This process, which I assure you is being closely monitored in the local and international insurance industry, will invoke a high level of speculation."
Adding that it was "immaterial" to him whether NUA retained NIB's business, Mr Ward told Mr Christie: "I am taking this extraordinary step out of a sense of duty, and in the belief that you, and most of your Cabinet colleagues, are unaware of important developments that have the potential to create embarrassing questions both within NIB and for certain Cabinet ministers."
Other documents filed with Mr Cargill's affidavit make clear NIB management's unease, and NUA's unhappiness, over the A. Scott Fitzgerald Insurance Brokers and Agents 'broker of record' plan.
In September 2012 Mr Cargill both wrote to, and spoke by telephone, with Insurance Commission superintendent Michelle Fields to determine if NIB could legally "insist" that a 'broker of record' be appointed on its account with NUA despite the latter's opposition.
This came after Warren Rolle, NUA's managing director, responed to an NIB request on June 28, 2012 (the same date as Mr Ward wrote to the Prime Minister), for A. Scott Fitzgerald Insurance Brokers and Agents to become the 'broker of record'.
"As we discussed, NUA does not currently have a contractual relationship with A. Scott Fitzgerald through a sub-agency agreement, which would require prior approval from the Insurance Commission of the Bahamas, nor would we be prepared to consider a co-broking arrangement," Mr Rolle said.
"Considerable time and effort on our part has been expended in providing competitive terms for both the initial tender and re-tender exercise. Consequently, we would find it highly impractical, at this late stage, to now have to share commissions with an entity with which we have had no previous relationship on this account."
Meanwhile, on the Cargill-Moss battlefront, the NIB director said the latter accused him of failing to follow his instructions on the re-tender and to exclude Bahamas First from the process.
Mr Cargill alleged that at the first meeting of the new Board, on July 26, 2012, management was asked whether the NUA/Bahamas First policy could be cancelled, "and the next closest bidders" asked to re-tender in a third bidding process.
The second and third bidders, Star General Insurance Company and J. S. Johnson Insurance Company, were asked to re-bid. Mr Cargill alleged that he then received an e-mail from Mr Moss on September 5, 2012, asking that Star General be appointed NIB's broker.
The NIB director responded that it would be "improper" to do so as J. S. Johnson had not responded. He also alleged that other management executives warned the Board that cancelling the NUA policy in the middle of hurricane season could see NIB "penalised to the full extent of the premium paid", and that the 'short rate' would apply.
While Mr Gibson instructed Mr Cargill to re-tender the insurance contract, nothing was said about excluding Bahamas First/NUA. The re-tender exercise was conducted on June 13, 2012, and bids opened on July 22 in the presence of all bidders.
Despite NUA "providing the best price offer" and savings $800,000 below Star General's price, Mr Cargill alleged that Messrs Moss and Davis continued to give 'directions' to cancel the NUA policy and award the business to Star General. He claimed he was told by Mr Gibson to ignore these directions, and those of the Board of Directors.
A September 14, 2012, e-mail from Mr Moss to Mr Cargill said a Board resolution had approved of NIB cancelling the Bahamas First policy on September 24 and entering into a new one with Star General on the same date. The chairman called for NIB to recoup 40 per cent of the premium sum paid to Bahamas First.
This was blocked three days later by Mr Gibson in his ministerial capacity. He said: "Notwithstanding the Board's view on terminating this contract, it is my position that this contract is not to be terminated if it is going to cost NIB more than we've already expended."
The response was immediate. Detailing his "grave concern", Mr Moss replied: "The simple facts are that the present policy is nothing short of illusory, as the deductible per loss is in excess of the value of the vast majority of NIB's properties (effectively rendering them uninsured), as the insurer is inexplicably both the insurer and the underwriter."
Mr Moss also alleged that the policy terms were breached because it was not '100 per cent underwritten by Lloyd's and other London companies'. He "implored" Mr Gibson to reconsider his position, and said he would have to dissent on the issue at any Board meeting.
Mr Gibson came under further pressure from Mr Davis, who described the Bahamas First/NUA policy as "suspicious and highly unusual and risky". He wrote: "In all of my years in public and private practice, and having negotiated a number of similar contracts for large multinational organisations, I can tell you without fear of contradiction, Mr Minister, that this policy is a bad policy and not one that is in the best interest of the Board or the Bahamian people.
"To allow it to continue in force not only puts major social security assets at risk, but also brings into question our judgment and motivation as a Board."
Mr Davis added that Star General's proposed policy langauge and premium was "in line with industry standards", and suggested this was the "best path" for NIB to take. Doing otherwise, he said, would be "a serious dereliction of duty".
Mr Cargill, in his affidavit, said that with help from Justice Ricardo Marques and Deborah Fraser, director of legal affairs in the Attorney General's Office, an agreement was reached with Bahamas First on October 3, 2012, to alter the policy terms.
Cooper Gay, a London reinsurance broker, confirmed on October 1, 2012, that NUA and Bahamas First had reinsurance cover in place for 100 per cent of the NIB risks insured.
And Nick Dewar, of McClarens Young International, a consultant appointed by Mr Gibson, confirmed on October 7, 2012, "that reinsurance was in place" and there were "no concerns" with the policy issued by Bahamas First.