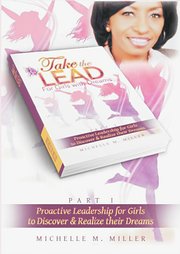 By JEFFARAH GIBSON
Tribune Features Writer
jgibson@tribunemedia.net
THE TRANSITION into adulthood brings uncertainty for many young women, where their dreams and professional lives are concerned. When confronted with questions about career paths and future goals, some young women are doubtful and undecided, having no concrete view of their lives in the future.
Bahamian author Michelle Miller will launch a new book "Take The Lead" during the Lead Your Dream Workshop this month to help women discover their dreams and eliminate doubt around their future plans. The workshop will be held Saturday at Buy The Book Bookstore.
Despite facing many challenges in her young years, Ms Miller said she was determined to see her publishing dream come to fruition. With the launch of the book, she proved that the power was in her hands all along.
"I actually believed that I could learn how to make my dreams come true. One of my dreams was to write books that could make a difference. I wrote 'Take The Lead' because I believe that every little girl has a dream; something that only she can do. The challenge is: how will she make her dreams come true? Where will she find the courage to believe in herself?'
I believe that we all act on information and if we are to make informed decisions, we need quality information. A girl's early exposure to "the right information" about her self-worth can make an enormous difference in the choices she makes. Because before she can believe in her dreams, she must first learn to believe in herself, Ms Miller told Tribune Woman.
"Take The Lead" offers usable information and practical lessons that help young women understand, navigate changes, build self-esteem and discover the power of their dream.
Ms Miller said the most essential tool a woman needs to take the lead is the courage to believe in herself.
"She must have courage, confidence and capacity to make quality choices. Taking the lead is akin to taking responsibility for your whole self. Many girls are often so critical of themselves; they develop the habit of negative self-talk. As such, taking the lead expands your understanding of who you are, helps you focus on your strengths rather than your perceived weaknesses," said Ms Miller. 
Another key point Ms Miller emphasises is that taking the lead has nothing to do with controlling the lives of others, rather taking responsibility over one's own aspirations.
"Leadership is not about gender, age, culture or circumstances. Anyone who is confidently prepared can learn to become a great leader. Since leadership aspirations and exposure is often directed towards the male gender, this is a key point for girls to understand. Another crucial point is taking the lead is not about taking over someone else's life or position, rather taking personal responsibility for the dreams that resides within you," she said. 
Ms Miller's first self-published book was "Life Skills Confidence Building for Teens". She intends to publish a part two for Take The Lead.
During the workshop, Ms Miller said participants will have the opportunity to reexamine what they believe is possible. Special attention will be given to dreams, whether big or small.
"I believe that life is the sum total of the choices we make. However, our choices are often based on perceptions that are mostly untrue. The workshop is a dream dialogue designed to cleanse the lens of perception. When you learn to see beyond any perceived barrier, you begin to believe in yourself and your dreams. This simple but profound shift can make a difference in choices we make, the paths our lives take and the women we become," said Ms Miller.