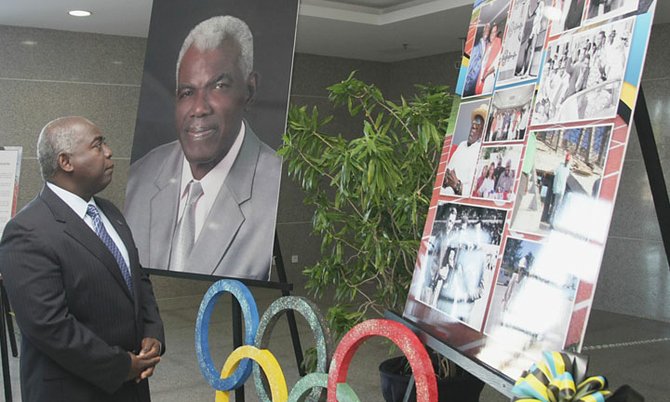 By BRENT STUBBS
Senior Sports Reporter
bstubbs@tribunemedia.net
THOMAS Augustus Robinson was remembered as "Sir Tommy, Daddy, Gus, a gifted athlete, the Great One, a leader, a mentor and a giant of a man" as tributes were heaped upon him during a memorial service at the new Thomas A Robinson Track and Field Stadium that he helped to create over the past five years.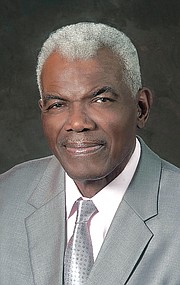 A very small crowd of people showed up last night, but those in attendance that got a brief dose of rain were taken down memory lane as one by one the presenters talked about their interaction with the man whom many came to love and adore, not just because of his athletic prowess, but his demeanor in life.
Robinson, who passed away 6am last Sunday at the age of 74 in the Princess Margaret Hospital after battling cancer, was revered by the young and the old, who recalled the impact that he had on their own personal lives and those that he came in contact with.
Deshon Bonaby, a student representing St John's College, talked about his pioneer enrollment as the youngest student to pass the examination and how for three years, he was the youngest student to attend the college, which today is celebrating their 66th anniversary in dedication to Robinson, who was an outstanding student-athlete up until he graduated after six years in 1953.
Tyrone Sawyer, who heads the Sports Division at the Ministry of Tourism, recited a poem that he wrote in honour of Robinson called "You Are My Hero" in which he talked about Robinson's talent that brought him fame, his dominance over his foes, his commitment to helping those in need and his discipline and persistence that made him stand out among the rest.
Louie Dames, a long-time friend both in the playground and church, felt that Robinson had a tremendous effect on just about everybody that he came in contact with.
Bahamas Association of Athletic Associations president Mike Sands, who served as the master of ceremonies, called Robinson his hero.
"Tommy didn't just become my hero because of his athletic prowess on the world stage where he continuously made this small nation proud, but he became my hero because he was everything I always wanted to be," Sands said. "He was a great athlete. I wanted to be a great athlete. I think it's a little late for that though.
"He was a great person and a wonderfil human being. There's still some time left for me to improve on that aspect. He was a great father. I'm also working on that one as well. And to me personally, he was a great friend. Hence to me, he was simply the great one."
Chris 'Fireman' Brown, who arrived in town today to attend the funeral, said there were some stories that he recalled about meeting Robinson. He noted that on his first occasion when he came from Eleuthera, he was in awe of Robinson's physique.
But when he got a chance to meet him up close and personal, Robinson only said a few words to him and parted.
On their next meeting, Brown said he remembered how he wanted to introduce himself to Robinson, but to his surprise, Robinson told him that he knew exactly who he was.
Again, very few words were exchanged between the two.
But he said he remembered when Robinson summoned him to his home and when he got there, Robinson acted as if Brown was the "legend" rather vice versa. The two shared some time together and Brown said he finally got to know a little more about the conservative Robinson.
Veteran journalist and close friend Fred Sturrup spoke about their journey around the world. He particularly recalled Robinson's last of four appearances at the Olympic Games in Mexico City when Sturrup made his first trip. He noted that Robinson demonstrated his leadership in guiding not just him, but all of the other members of the team.
Sturrup said that as a result of all of Robinson's achievements he was surprised that Robinson was never knighted, but we still refer to him as "Sir Tommy."
His only brother Kinsley Robinson spoke about their life together growing up on their family estate on Hawkins Hill where they spend many days being the envy of their friends and eventually learning the importance of making a living while getting themselves in trouble at the same time.
But he noted that their family has been shocked by the overwhelming support that they have been receiving from the government and the people of the Bahamas since Robinson's passing. He added that they are just thrilled that so many people have been touched by his life.
Leslie Miller, the Member of Parliament for Tall Pines, said he was disappointed that there was not more people in attendance at the memorial to show their respect to his former team-mate in many international meets that they competed together representing the Bahamas.
As she tried to hold back her tears in her emotional address, Golden Girl Debbie Ferguson-McKenzie, the godchild of Robinson,  noted that "Tommy," whom she regarded as her "daddy,"  had a positive influence on many athletes who like her, looked up to him as a "role model, mentor and father figure. He was also the "champion of others," who lived a principled life and shared a strong sense of right and wrong.
"He was never a man to step back from a challenge, as is evidenced by his devotion and dedication to the construction of this new stadium that now bears his name," Ferguson-McKenzie said. "He shared his expertise with all his colleagues. He never sought praise for what he did. He led by example and he mentored many youngsters.
"He was a man of passion, a keen sportsman and proud supporter of track and field, up to the time of his death. He remains an inspiration to so many."
Former sprinter and BAAA first vice president Iram Lewis also called Robinson "daddy" after they became so close during the latter years of his life and they worked tirelessly on the construction of the stadium.
But he added that there was still a lot that he never got to know about Robinson, who encouraged the staff at the Ministry of Youth, Sports and Culture to continue to work, even when they didn't have all of the means possible to get the job done.
Whelma Colebrooke, former national 800 metre champion, said Robinson spent so much time mentoring athletes like herself, Lavern Eve, Jackie Edwards, Monique Miller and Debbie Ferguson-McKenzie. She noted that he worked diligently in the schools, helping so many athletes to attain international recognition.
From the time she met Robinson when she started attending CI Gibson Junior High School in 1978 and all through her days at RM Bailey Senior High, Robinson took a keen interest in her grades and her athletic career under the supervision of coach Frank 'Pancho' Rahming.
In 2009 when she became a Family Island administrator, Colebrooke said Robinson reminded her to "remain focused and be a mentor to the student athletes and stress to them the importance of achieving good grades before and during college."
Minister of Youth, Sports and Culture Dr Daniel Johnson said Robinson was a special gift, a hero who made his contribution to the Bahamas' journey to greatness.
"The country is eternally grateful for his leadership and unselfish mentoring, which Tommy gave to so many of our youth, some who today are taking the Bahamas to higher heights, just as he inspired them to do," he said. "As an athlete, teacher, coach, consultant, businessman and advocate, Thomas Augustus Robinson did more than his share to prepare us for the task of nation building."
Having made his contribution to the on going development of the Queen Elizabeth Sports Centre Complex and the National Stadium, Johnson said Robinson was honoured to not only have a track facility named in his honour, but also to participate in and to steer the construction of the facility.
"He was a humble man and I recall that he would often say: 'What did I do to deserve all of this; I just did what I did for country, not self."
During the night, two beautiful renditions were made by Candace Bostwick and Dyson Knight.
Among those present were Prime Minister Perry Christie and a number of his parliamentary colleagues. Bahamians from all walks of life showed up, including a contingent from St John's College and, in particular, the senior boys and girls basketball teams, headed by coach Herbie Brown.
Also in attendance were athletes from the track and field fraternity.
National triple jump record holder Leevan 'Superman' Sands, who walked into the stadium without any crutches from the surgery to repair his right jumping knee after he sustained an injury while competing in the final at the Olympic Games in London, England, said he would not have missed this for anything in the world.
"Tommy Robinson was an inspiration to me because when I was down, he would call me every now and again to make sure I was in high spirits and was motivated," Sands said. "He inspired me to stay motivated even in pain. That's one thing I learnt from him. You never saw the pain that he was going through, especially dealing with what I've been going through.
"Just dealing with the pain, you never see it. That really inspired me. Just for him to be calling me and encouraging me was special. Some times I would be down and just to get a call from Tommy Robinson asking me how I feel and to stay motivated was more encouraging than anything else."
Having done some treadmill exercises last week, Sands said he's getting through his therapy much faster than he anticipated, so he is just delighted to be able to come home to pay his last respects to the late Robinson.
For Lavern Eve, who is home recuperating from an injury as well, Robinson was an "educator and motivator" who was concerned about the well being of a lot of athletes.
"He actually got me in school when I graduated from St Augustine's College, although I didn't leave until January that year," Eve said. "He made sure that I was not just sitting around and being idle. He enrolled me in academia and encouraged me to go to the classes at least three times a week.
"For me, he was very, very concerned about what I would do later on in life, not just in track and field, but life after track and field. So every summer I came home, I had to give him a report. I would always find him in Birds of Paradise and he was always concerned about what I was doing in life in general. So I really appreciate him for his concern. I couldn't mess up because he was so loyal. He was everything that you could ask for in a person."
Golden Girl Pauline Davis-Thompson, now an IAAF council member, said it all seems so surreal that Robinson is gone.
"He always gave me the bear hug and he had that big smile. He was very encouraging and very supportive," she said.
"I remember when I first met him, I told him I thought he was dead. But he said 'no, I'm here in the flesh.' So to meet him and to know that he was the one to pave the way for us, he was a giant of a man.
"He had broad shoulders. He was a humble man, unassuming and very supportive of our programme and athletes in general. It was just to great to have been in his presence and to have learnt from him. I'm really going to miss him. He was truly loved. He will definitely be missed."
Robinson, who left behind a host of family, including his children Scott, Tanya, Robbie and Erica, will be laid to rest on Wednesday following a state-recognised funeral service at Chrish Church Cathedral. May his soul rest in peace.