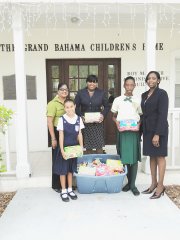 THEY SAY it only takes a spark to get a fire going. The same is true when it comes to igniting the spirit of giving in others.
Earlier this year, Bishop Michael Eldon Student Katelyn Cabral was featured for her generous school project where she collected hundreds of juice boxes and donated them to the Grand Bahama Children's Home (GBCH).
Around the same time that Katelyn made her donation, another local student was looking for a way to help her community.
Azariah Brice, a student at Freeport Gospel Chapel, heard of Katelyn's juice drive and took the idea to her school.
With the help of her teacher, Rowena Ferrell, Azariah and her peers collected a container full of juice boxes and donated them to the GBCH on behalf of Freeport Gospel Chapel.
"Juices and snacks are some things that our children always need. We are very grateful to Azariah and the students of Freeport Gospel Chapel for adopting Katelyn's idea to help the Home and we hope that other students reading this story will also be inspired to co-ordinate similar donation drives at their schools," said Brennamae Rolle-Cooper, administrator at the Grand Bahama Children's Home.
Although this school year will be Azariah's last at Freeport Gospel Chapel, the school's administration has agreed to continue the juice drive as an annual event.
They are proud of Azariah's act of kindness and the different ways she helps through volunteering at school and in her community. Katelyn is also excited and working with the administration at Bishop Michael Eldon School to plan their second annual juice drive which is now appropriately being referred to as "Students Sharing".
Anyone who wants more information on how to inspire their school to assist less fortunate students is asked to call the Grand Bahama Children's Home on 352-7852 or visit the home on Facebook.