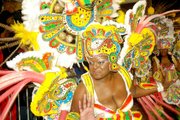 AN $850,000 investment over five years has been pledged to the Christmas season junkanoo parades by the Bahamas Telecommunications Company.
BTC senior vice-president of brands and communications Marlon Johnson said: "We see this financial support as the realisation of a company focus, one of respect, collaboration and promotion of Bahamian culture. This is our way of helping to protect and sustain all things Bahamian.
"Just as we have sponsored through the year smaller events in the community and sporting events like Carifta and the Olympic Team, BTC sees junkanoo as a way to unite the community and promote the rich culture of the Bahamas."
Mr Johnson added that he hopes the BTC sponsorship would give junkanoo groups and the Junkanoo Corporation of New Providence (JCNP) the financial resources to provide the best possible show for the Bahamian public.
Silbert Ferguson, president of the Junkanoo Corporation of New Providence (JCNP), said the long-term sponsorship is meaningful and much appreciated.
"Thank you so much BTC," he said. "The Junkanoo community has long awaited a sponsor-partner of this vision and purpose.
"We started this journey as the JCNP in 2010 and BTC stepped forward in a meaningful way then and has continued to do so. In three short years BTC has committed over one million dollars in support of junkanoo and it is a breath of fresh air; we are here today with a lot of gratitude."
BTC will give sponsorship of $150,000 this year in support of both senior parades on Bay Street.
The parades will be named the BTC Boxing Day Junkanoo Parade and the BTC New Year's Junkanoo Parade.
Last year, BTC contributed $206,000 to underwrite a major portion of the expenses for the junior and senior parades and for all choreographed dancers in the A and B class groups.
CAPTION:
Silbert Ferguson, president of the Junkanoo Corporation of New Providence, accepts the donation from BTC's Marlon Johnson.
Photo: Farrano Ferguson