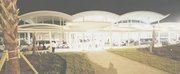 By NEIL HARTNELL
Tribune Business Editor
nhartnell@tribunemedia.net
The Lynden Pindling International Airport (LPIA) has seen "a quite substantial" 6.9 per cent increase in incoming airline seats during the first four months of its current financial year, its operator yesterday saying net income "isn't the most accurate reflection of our health".
Stewart Steeves, the Nassau Airport Development Company's (NAD) president and chief executive, told Tribune Business that cash flow to service its $445.431 million long-term debt was the priority, rather than the bottom line performance.
Pointing out that NAD was a 'development company', rather than an 'operating company', Mr Steeves said a better indicator of the company's health came from the 27.4 per cent increase in year-over-year operating cash flows, which rose to $34.744 million from $27.266 million.
NAD suffered a $13.941 million bottom line reversal that dropped it to a net $6.172 million loss for the 12 months to end-June 2012, due to a combination of interest and depreciation/amortisation costs.
Mr Steeves acknowledged to Tribune Business yesterday that interest associated with debt servicing costs would "pressure" NAD's net income going forward, but this would not impact its ability to repay the debt.
Elsewhere, Mr Steeves disclosed that NAD had increased staff levels by more than 50 employees, taking numbers over the 200 mark by bringing cleaning, landscaping, pest control and internal plant maintenance functions in-house.
He added that the $409.5 million redevelopment project had created between 2,500-3,000 construction jobs, of whom 70-75 per cent were Bahamian, with local contractors enjoying a one-third share of contracts.
And, providing more evidence of an ever-improving operating performance, Mr Steeves said incoming airline seats from non-US international flights and US routes were up 11.7 per cent and 8.8 per cent, respectively, for the first four months of NAD's 2013 financial year.
Noting that NAD was constantly working to generate new routes and increased airline service to LPIA, Mr Steeves said: "We've got a couple more that are almost imminent, very soon, that we're working on.
"We're seeing the results of that in the passenger performance, which is up quite substantially. If you look at year-to-date, seats in the marketplace, July 2012 to end-October 2012 compared to the same period last year, domestic seats are up 1 per cent.
"Non-US international seats are up 11.7 per cent, and US seats are up 8.8 per cent. Overall, we're up 6.9 per cent," he added.
"Those are healthy numbers. In the context of aviation, those are big growth factors."
Acknowledging that the growth had resulted from a team effort involving NAD, the Ministry of Tourism, Nassau/Paradise Island Promotion Board and hotels such as Atlantis and Baha Mar, Mr Steeves said increased airlift and routes were being "pursued aggressively".
On the financial side, for 2012 NAD saw its interest costs increase year-over-year by 122 per cent to $26.84 million, compared to $12.086 million in 2011, while amortisation and depreciation rose by 198 per cent - growing to $13.188 million from $6.659 million.
As a result, NAD's total non-operating expenses more than doubled, hitting $40.913 million for 2012 compared to $19.704 million the year before.
Mr Steeves said the increases were driven by the stage one completion of the LPIA redevelopment, which was the US departures terminal.
As a result of that terminal "coming on stream", NAD now had to expense interest payments associated with related debt, including them in the income statement rather than 'capitalising' them in the balance sheet.
Similarly, with that terminal now in operational service, depreciation was now a factor, hence the increases in both expenses lines and total non-operating expenses.
"Net income isn't the real, most accurate reflection of the health of the business. It's far more cash flow," Mr Steeves told Tribune Business. "Interest charges will pressure net income, take net income down, but it's not a reflection of the cash flow repaying the debt."
Net cash flows from operating activities more than doubled in 2012, rising from $9.054 million to $25.633 million, and Mr Steeves added: "That shows the performance of the business to fund capital and debt associated with the capital expansion."
The NAD chief executive, who is set to step down in March 2013 to be replaced by Bahamian Vernice Walkine, said the LPIA was set to shift focus from financing and development to marketing, route development, operations and customer service.
He added that within the past two months, NAD had brought its cleaning, landscaping, pest control and internal plant maintenance functions in-house. Mr Steeves noted that airport cleanliness was "one of the highest determinants of passenger satisfaction" with such facilities.
Construction contracts, the NAD chief executive said, had ended up being split one-third each between Bahamian, Canadian and US firms, with a maximum 500-600 workers on-site at one time.
"With all the concessions, restaurants and services we've put into the airport, we've created 200 full-time jobs for Bahamians that did not exist before," Mr Steeves told Tribune Business.
"Those are permanent, perpetual jobs and are a real kind of success story."
Between NAD and all the companies that operated at the airport, Mr Steeves estimated that LPIA was responsible for creating 2,500-3,000 jobs.