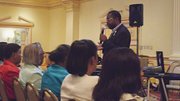 Addressing the topic of wellness and "Making Smart Choices", Dr Charles Diggiss, president and chief executive officer of the MedNet Group of Companies and founder of HealthWise Ltd, (RITEWEIGH), was a guest speaker at the recent Church of God Bahamas conference.
At the 23rd Annual National Women's Ministries Conference, held at Breezes SuperClubs Resort, Diggiss told delegates that it was difficult to talk about obesity without reminding them of the value of exercise or diet and lifestyle stresses.
"The challenge for most is getting and staying at your right weight," said Dr Diggiss, who is a laparoscopic and general surgeon. He performs obesity surgeries such as the LapBand and the Gastric Plication.
Dr Diggiss told delegates that obesity is an epidemic in the country. He encouraged the women to first know or discover their BMI (Body Mass Index) and then to work on getting to a target BMI, the right percentage of body fat for their height and weight.
Dr Diggiss also dispelled the myth that exercise and eating right was costly. He spoke about the cost of obesity and illness. He noted that buying clothes to accommodate obesity can be costly.
"Some persons are wearing enough clothes to fit three people; when travelling by airplane some air carriers will make you pay for two seats," he pointed out.
Dr Diggiss stated reasons for obesity, ranging from (genetics), to habits where families eat too much, such as the culture of using food to highlight any ceremony. He said that fighting obesity requires dealing with the mind, brain, emotions and the body and he urged the women to carve out time for themselves and to eat right.
"If you are going to eat meat, eat white meat such as fish. Let sugar go. Back off," he said.
His advice to the conference delegates was simple, to get to your right weight you must come to a realisation of where you are, what's working, what needs to be fixed and how you're going to do it. You must identify your food demons and avoid them," he said.
"There is no quick fix. Surgery is not a first option. Not for 20 pounds. Discipline comes from within. Count calories. 1500 is the magic number. After 1500 drink zero calorie water etc.," he advised. "Count calories, add them up, then add 200 for what you missed or forgot."
Dr Diggiss told the women that getting to their right weight and maintaining it was about making right choices, which begins with the food they buy, how they prepare it, portion sizes, counting calories, avoiding food demons like sugar, and getting real exercise for at least one hour a day.
Approximately 300 women attended the three day conference under the theme "More than enough God." Its purpose was to refresh and rejuvenate the women of God, many of whom have leadership responsibilities in their ministries, by allowing them "to bask in the grace of God and fellowship". Speakers also included Bishop John and Prophetess Jennie Humes, president of the Church of God Bahamas Women's Ministry; keynote speaker Evangelist Maxine Johnson, Minister Cynthia Johnson and Minister Rudy Adderley.