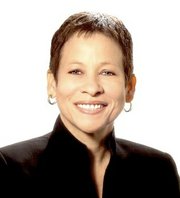 By KHRISNA VIRGIL
Tribune Staff Reporter
kvirgil@tribunemedia.net
AVIATION Minister Glenys Hanna-Martin yesterday revealed that the Abaco International airport will cost the government more than $10 million in overruns before it can be opened.
The Leonard M Thompson International Airport in Marsh Harbour "with its checkered past of starting and stopping," the Minister said, was first projected at $27.3 million. Now officials have said the needed repairs will run taxpayers into an additional $11,930,000. With the hike, the airport comes up at a total cost of nearly $40 million.
Included in that estimate are a $6 million run way extension, $3.8 million to build a freight building, $ 230,000 for that building's architectural fees and $1.9 million in other architectural fees.
"The story," she said, "of the construction and the pre-construction has a long and checkered history, often embroiled in political controversy. It is a project that was announced as far back as 1992 by the then Prime Minister Hubert Ingraham, who declared that the airport would be constructed in that budget year.
"By the time his term ended in 2002 no new airport was built. The construction has been marked by starts and stops spanning more than two decades. I am told that over the years large sums of public funds have been expended in various architectural plans."
She told parliamentarians that the additional high fees to have the airport opened is the result of a failure to plan coupled with ad-hoc decisions.
Officials have also determined, she said, that in planning the airport, there were no measures to ensure an optimisation of space for future expansion efforts. Neither was there proper consultation on how the facility would reach maximum energy efficiency, Mrs Hanna-Martin said.
Last week the Minister announced that the airport would be delayed yet again despite three previous completion dates having been set.
When ground was broken on September 1, 2011, it was said by the Ingraham administration that in 10 months the facility would be completed and ready for use. However, Mrs Hanna-Martin said, Abaconians still anticipate the day when they will be able to travel through the Leonard M Thompson airport and reap its benefits.
Another completion date has not been set.
The Ministry is expected to begin training in the near future for airport staff.
Last week, Minister Hanna-Martin told reporters outside the Cabinet office that officials were also concerned that no electrical power had been installed for the air traffic control tower.
FES Construction was contracted last year to build a new international terminal, an air traffic control tower and a fire crash rescue facility.