By DANA SMITH
Tribune Staff Reporter
dsmith@tribunemedia.net
PRIME Minister Perry Christie has met with former High Rock MP Kenneth Russell and the same investment team that played a part in his resignation from the Cabinet under the Ingraham administration. The meeting was in connection with a proposed project for Grand Bahama.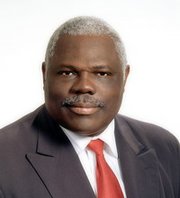 Mr Christie said yesterday that whether the proposal can be financed is a question for the government. He said the investors would be returning to him "with respect to certain matters".
Although Mr Christie did not disclose the name of the proposal, Mr Russell said yesterday it involves the "same people" as the Sharp Rock investment.
Last year, Mr Russell was asked to resign from Cabinet by former Prime Minister Hubert Ingraham for breach of Cabinet protocol.
Mr Ingraham later cited the Sharp Rock investment, which the Ingraham administration had turned down. The proposal was a factor in Mr Russell's resignation.
Mr Christie said yesterday: "Mr Russell did come into my office with about 15 persons all a part of an investment team – some from China (and) some representing big commercial interests from China – and the proposal remained one of those extraordinary proposals in terms of its dimension and size."
Whether or not the Bahamas government "can agree to something like that," Mr Christie said, is yet to be determined.
"All proposals are what they are – proposals," he continued. "Whether a proposal can be financed is the question for the government and so that is what remains to be ascertained. I have given them my frank opinion and advice with respect to their proposal, they have to come back to me with respect to certain matters. But, the bottom line always is – you cannot get to first base unless you have money.
"The proposal will be driven by the reality of financing and it will not be driven if there is no financing. They have come to me, they have put a proposal in, and I say, 'Now show me the money'."
Mr Russell described the meeting with the Prime Minister as "fruitful" and said the investment team will be returning to Mr Christie.
"We are going about now to put everything in place and bring everything together to show that we have the (means) to get the finances and the means to do this construction and the means to run the facility," he said.
"The question is whether all of us think that it's a good thing to help Grand Bahama move forward and I believe that is the case. Whether we'll be able to satisfy all of the concerns, or the questions, is something that we're working on now and I believe that we can do so."