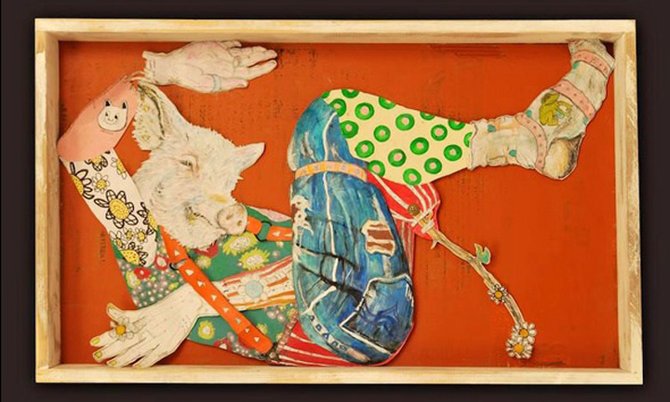 By ALESHA CADET
Tribune Features Reporter
acadet@tribunemedia.net
THIRTEEN TOP artists now hold a special month in the Colina Insurance 2013 Calendar, celebrating 40 years of Bahamian independence and expression.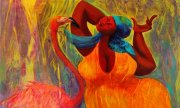 The 2013 calendar, produced by Colina Insurance Limited in partnership with the National Art Gallery of the Bahamas (NAGB), gives a fun look at every day Bahamian phrases through the artistic interpretation of local artists: Well Muddasick, Gussie Mae, All Kerpunkle Up, Ghost Move, All Jam Up, and other colloquialisms are artistically expressed in the calendar art.

The work featured in the calendar became available for purchase through a silent art auction held last Thursday at NAGB.
NAGB Director Amanda Coulson told Tribune Entertainment the launch gathered quite a number of people, but turnout was impacted by the coinciding Junior Junkanoo parade.
"We had about 150 persons that came out and got most of the work sold, where we had a silent auction, which was basically the main thing. We wanted to support the artists because they were asked to be original with the calendar and we thought it would be a nice way to give something back, so we had a silent auction. It was very successful," said Ms Coulson.
Insurance calendars have come a long way, said Ms Coulson, remembering the old "fold out plastic" versions that used to be standard. Colina has redesigned its calendar to make it better for the past four years.
"Their first year I think they did churches of the Bahamas; the second year they focused on charities. The most recent one before this was the one that featured sporting figures, young sporting figures. I believe the month of August was one of the golden boys so that has now become a collectors item. They are trying to basically reflect Bahamian culture and society with their calendars," said Ms Coulson.
When Colina made the decision to celebrate 40 years of Bahamian independence, Ms Coulson said they contacted NAGB by sending them a list of colloquialism and asked NAGB to organise and coordinate artists to illustrate the words and phrases.
"We have 13 top artists that actually illustrated and they all had to pick out of the list that we sent," she said.
The cover piece of the calendar is "Well Muddasick" by Kachelle Knowles. Ms Coulson said it is a wonderful piece.
She said many people have reacted positively due to the pieces being very different and very original.
"I showed it to some people randomly, and they were laughing their heads off," she said.
" I think that there is going to be a lot going on in the new year with independence and the different things with politics, which actually has its place but we really wanted to try and do something really different and stand out, and I think that this is just great," said Ms Coulson.
She said the calendar is also great for young artists because it puts them on the table of so many people that might not know about the National Art Gallery.
"People might not really think that they are interested in art, but then again they would see that it is interesting from looking at the calendar," said Ms Coulson.
"It was great for us that Colina reached out and I really appreciate that. They are also making a donation to the gallery, which is also important that people see us as a valuable part of the community and support us. We are very grateful to Colina for that and for understanding how being an artist really helps our community," said Ms Coulson.