By BRENT STUBBS
Senior Sports Reporter
bstubbs@tribunemedia.net
WITH the qualifying rounds completed, the Bahamas Lawn Tennis Association is gearing up for an exciting main draw in the Giorgio Baldacci Open Challenge Tennis Tournament at the National Tennis Center today.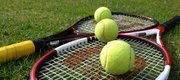 And based on the line-up in the men's and women's divisions, BLTA president Derron Donaldson said it should be an exciting showdown over the next four days of competition.
Coming out of the men's qualifying rounds on Monday are top seeds William 'JJ' Fountain, No.2 Kevaughn Ferguson, No.3 Ceron Rolle, No.4 Archie Burrows, No.5 Shaquille Taylor, No.6 Rasheed Carey, No.7 Johnathan Taylor and Timothy Neilly, who replaced No.8 seed Justin Higgs.
Fountain prevailed with a 6-4, 6-0 win over Dirnaj Saunders, Ferguson beat Dylan Walker 6-2, 6-3, Rolle won by default over Loran Woodside, Burrows knocked off Stafford Armbrister 6-1, 6-1, Shaquille Taylor got by Robert Smith 6-1, 6-2, Carey pulled off a 6-0, 7-5 decision over Shannon Francis, Johnathan Taylor outlasted Jamal Hoyte 6-3, 7-5 and Neilly took care of Justin Higgs 6-1, 6-2.
The qualifiers will have their work cut out for them when the main draw play gets underway today. The top four seeded players in the men's divisions are Marvin Rolle, Grand Bahamian Devin Mullings, Justin Lunn and Grand Bahamian Jamal Adderley.
In today's opening matches, Marvin Rolle is slated to take on Kevaughn Ferguson, Justin Lunn to face Kevin Major Jr, Jamal Adderley to square off with Jodi Turnquest and Shaquille Taylor will battle William Fountain. That will be followed by the women's matches.
Top seed Simone Pratt will square off against Erin Strachan, No.2 Kerrie Cartwright competes against Gabrielle Moxey, No.3 Nikkita Fountain will compete against Danielle Thompson and No.4 Larikah Russell and Chelsi Russell are to clash.
The remaining four matches in the men's division will then be contested.
It will be No.2 Devin Mullings vs Andrew Burrows, Rasheed Carey and Timothy Neilly will meet in an all-Bahamian showdown, Rodney Carey and Philip Major Jr will play and Ceron Rolle will face Johnathan Taylor.
"All of these matches in both categories can go any way," Donaldson said. "The juniors are playing very great tennis and so there's really no favourites going into the main draw."
On the men's side, Mullings, who has not lost a December tournament since its inception, comes in as the second seed simply because of his inactivity due to his recovery from surgery.
Marvin Rolle, the top seed, is last year's winner.
"You have the two Majors in the tournament, so you don't know what to expect from them," Donaldson said. "They are like sleeping dogs. They can beat anybody in the tournament if they are on their game.
"Everyone is just waiting to see what will happen. It's wide open on both sides. It's very interesting because when you come to this tournament, it's usually Devin hands down. But he's been out injured and these juniors can surprise you."
As for the women's draw, Simone Pratt is the defending champion but Larikah Russell, who didn't defend her title, is back to reclaim her No.1 spot.
"Again, taking in consideration, Larikah has been winning the tournament a lot, but she didn't play last year," Donaldson said. "So again you don't know what will happen. You have Danielle who has been playing great junior tennis this year, Erin Strachan also played great this year and then you have Kerrie Cartwright, who is very silent, but deadly.
"So we expect to see some fierce competition and some good matches across the board in both divisions."
The doubles draw is scheduled to begin following the singles. There are only four teams entered with Nikkita Fountain and Larikah Russell as the top seeds. They will take on Erin Strachan and Danielle Thompson.
The No.2 seeds are Kerrie Cartwright and Simone Pratt, who will play Gabrielle Moxey and Chelsi Russell.
As for the men, the top seeded team is Marvin Rolle and Jadrian Turnquest. The No.2 seeds are Jamal Adderley and Timothy Neilly.
The tournament is being held in memory of the late Giorgio Baldacci, who has served as a former coach and mentor for the majority of the players who are competing. Baldacci passed away recently.