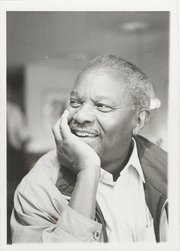 ALTHOUGH the loved ones of Edwin Percival Minnis are sadden he will not spend Christmas or any other day with the family, a smile will always surface on their faces when they reflect on the life he lived and the precious memories he left behind.
The Bahamian, who made Scotland his home, passed away on December 11 due to health complications. He was the youngest son of Samuel and Sarah Minnis of Gaol Alley.
According to family members, the 88-year-old lived a life of no regrets. Every day brought new experiences.
As a boy, Edwin assisted his father, who was a butler for rich white residents, particularly at the exclusive Cable Beach Golf Club.
"The socially privileged clientele included the former King, HRH Edward VIII, who had recently abdicated the British throne. On one occasion, having presented at the Government High School prize giving ceremony in the afternoon, the former monarch saw Edwin lining up with the rest of the staff at an evening engagement and congratulated him effusively on an excellent set of exam results," shared family members.
During World War II Edwin served as an officer in the British Army in Jamaica. After the war he got a scholarship to study accountancy in the UK. It was at the Cosmopolitan Club at Edinburgh University (an organisation that welcomed overseas students) that he met the then president, Joyce Wood, who later became his wife. He matriculated with a degree in Economics followed by a CA (Charted Accountancy). He was the first Bahamian Chartered Accountant. He then moved to Glasgow where he did his apprenticeship.
In 1956, Edwin married his wife Joyce. The two later settled in East Kilbride, Scotland. As a black man, he struggled finding employment. He took on temporary evening work lecturing at Glasgow University and eventually got a full-time post at the Scottish College of Commerce, which soon became part of Strathclyde University.
"He enjoyed a long and successful career as a senior lecturer in which his special interest was accountability in the public services, and included a five-year period as acting head of department."
He was by no means a typical accounts lecturer. With CW Nobes, he edited a book entitled "Accountants' Liability in the 1980s". He was famed for holding regular parties for his students in which he served Bahamian specialities such as fried chicken, peas and rice, explosively spicy onions and rum punch.
In the late 1980s he retired and started his own accountancy firm focusing on helping new business start-ups.
Eddie was also very active in his community. He coached table tennis at the local youth centre and managed a young offenders' group for the social work department, where he acquired the moniker "Big Ed".
He was a Justice of the Peace for many years and eventually became Chair of the Justices. He continued to have a particular concern for the rehabilitation of young offenders, although at home he would joke that he was 'the hanging judge' family members said.
While living in Scotland, he frequently returned home to visit friends and family. He presided on the panel of commissioners for the 1994 work on a Commission of Inquiry into corruption. He served along with Sir William Douglas (President) and Gerald Montez de Oca.
After the Commission was completed, Eddie retired and enjoyed hobbies such as bird watching, astronomy and reading classic novels. He also took great pleasure in helping look after his two grand-daughters and enjoyed a full and happy family life.