By LAMECH JOHNSON
Tribune Staff Reporter
ljohnson@tribunemedia.net
A FORMER policeman accused of having sexual relations with his three granddaughters was remanded to prison yesterday after being arraigned in the Magistrate's Court.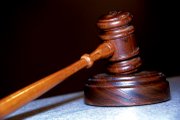 The elderly man, who appeared before Chief Magistrate Roger Gomez wearing a long sleeve red shirt and beige trousers, faced three counts of incest.
It is first claimed that he had sexual relations with one of his granddaughters sometime between August 2007 and December 2010, knowing she was a blood relative.
The granddaughter was 10 years of age at the time of the alleged incident.
It is further claimed that he had sexual relations with a second granddaughter between March 1, 2011, and March 31, 2011. This child was 13 at the time.
It is also claimed that he had sex with the youngest 10-year-old granddaughter, on May 23 of this year.
Chief Magistrate Gomez asked the accused if he understood the charges that were read to him. "Yes, sir," the elderly man answered,
The magistrate told the accused that he was not required to enter a plea to the three charges as his case would be fast-tracked to the Supreme Court for trial through a Voluntary Bill of Indictment.
The Bill is expected to be served on him on April 11, 2013.
Before being told he would be remanded to Her Majesty's Prison, the man's attorney, Ramona Farquharson-Seymour, told the court that her client was recently in hospital and was receiving medication as he was suffering from high blood pressure and diabetes.
She asked the chief magistrate if he would extend her client's police bail or grant him bail on those conditions.
The police prosecutor told the court that the former policeman was not on police bail and that there was "able" medical care at the prison for him.
"I don't have the authority to grant bail, but I'll ask the prison to take a special look at him," Chief Magistrate Gomez said.
Before he was handcuffed and escorted from court by the police, he was consoled by a female relative.
He was remanded to prison until completion of his trial.