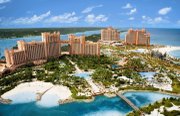 By NEIL HARTNELL
Tribune Business Editor
nhartnell@tribunemedia.net
Atlantis is on track for a "spectacular" 2014 and 2015, its operator revealed yesterday, due largely to the pace of group bookings which were producing "significant" numbers.
While declining to reveal specific numbers, George Markantonis, Kerzner International (Bahamas) president and managing director, said the Paradise Island resort's short-medium term future and performance looked "bright".
Indicating that it expected to be at 100 per cent occupancy for the New Year, Mr Markantonis said his main concern was the bad weather in the US north-east impacting travel to the Bahamas, rather than the US falling over the so-called 'fiscal cliff'.
"We're having a very busy period," he told Tribune Business. "The place is packed, the restaurants are full and the customers are flowing in.
"Hopefully, we're going to have a great start to the New Year, but we'll have to wait and see. Our promotional efforts are starting to work for us. I'm more concerned about the bad weather hitting the north-east, but we'll have to see how that plays out. Right now, the booking pace is continuing."
Mr Markantonis said the impact on convention and group business, if the US did go over the 'fiscal cliff', was a question by itself, but how the situation in Washington plays out - and its potential wider ramifications - remain to be seen.
Looking ahead to 2013, the Kerzner chief told Tribune Business: "Generally, it looks like we'll have a very similar year to 2012, and 2014 and 2015 look spectacular for us right now.
"Group pace is well ahead. Some of the numbers are significant. Certainly, from the point of view of group pace, it looks bright, but we have to see what else we can control."
And, with the year's end fast approaching, Mr Markantonis said: "We're jammed. We're definitely full over the New Year. It should be great."