By LAMECH JOHNSON
Tribune Staff Reporter
ljohnson@tribunemedia.net
A 29-year-old man was convicted yesterday in Magistrates Court and fined $5,000 for possessing 30 grams of cocaine with intent to supply.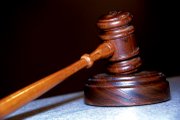 Gregory Patrick King of West End Avenue was told be would face up to a year in prison if he failed to pay the fine.
The charge now carries a mandatory minimum sentence of four years imprisonment, thanks to new laws passed in November of last year.
But Deputy Chief Magistrate Carolita Bethell told King yesterday that because he was charged and tried before the amended law came into force, he would not receive the mandatory sentence.
The magistrate also said she decided to fine him instead of ordering a custodial sentence because the matter has been ongoing since 2007 – a fact she blamed on both the prosecution and the defence.
King was arrested on April 22, 2007 and charged two days later. The trial was expected to start that year, but was delayed by several adjournments due to the unavailability of prosecution witnesses or attorneys, as well as for other reasons.
The matter commenced on May 13, 2010 and another series of adjournments took place due to the absence of the defendant. The warrants for his arrest were cancelled after a suitable explanation was given to the court.
The trial resumed in January of this year and the prosecution's case carried into February. In March, King began his defence. His uncle testified on his behalf.
Before handing down her ruling yesterday, the deputy chief magistrate noted that according to the evidence, officers were patrolling West End Avenue when they noticed King sitting on a bench in front of an apartment complex with a white plastic bag in his hand.
The officers saw him get up and walk to the back of the apartment complex.
They drove around to Cordeux Avenue and saw King burying the plastic bag in the back yard.
The officers intercepted him, dug up the bag, and found 45 packets of cocaine rocks, according to the evidence.
Yesterday, King said he was unable to pay the full fine immediately, but could pay some of it.
The magistrate said she would accept $2,500 and ordered that he pay the other half by the end of January 2013.