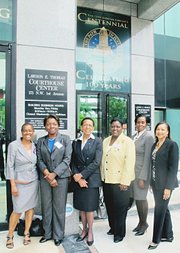 SENIOR government officials including Minister of Social Services and Community Development Melanie Griffin and Attorney General and Minister of Legal Affairs Allyson Maynard-Gibson attended the Caribbean Dialogue on Rule of Law and Gender-Based Violence in Miami, Florida from December 11-13.
The US Department of State Office of Global Women's Issues hosted the conference at Florida International University. The conference brought together judges, prosecutors and high court justices, as well as police officers and representatives from civil society from 12 Caribbean countries including Jamaica, Trinidad and Tobago, and Barbados to exchange ideas and share strategies for strengthening the rule of law and ending gender-based violence in the Caribbean.
The delegates also spent time developing and expanding country action plans to outline strategies to combat gender-based violence.
Secretary of State Hillary Clinton, speaking via video, welcomed delegates to the dialogue and encouraged them to end domestic violence in their countries. She noted that every Caribbean nation has a sexual violence rate that is higher than the world average.
During the conference, Caribbean representatives toured the Miami City Dade County Family Court where they spoke with a number of judges and viewed the proceedings of the family court.
The Miami Dade Family Court handles two broad categories of cases: domestic relations and probate, and files and maintains more than 35,000 new cases annually.
Anita Botti, Chief of Staff and Principal Deputy in the Department of State Office of Global Women's Issues chaired the dialogue.
Conference delegates heard from a number of speakers including: Liliana Ayalde, Deputy Assistant Secretary in the State Department's Western Hemisphere Affairs; Brian Nichols, the Principal Deputy Assistant Secretary for the State Department's Bureau of International Narcotics and Law Enforcement; representatives from UN Women, the government of Barbados, the University of the West Indies and the government of Jamaica.
US Ambassador to Barbados and the Eastern Caribbean Larry Palmer and US Ambassador to Jamaica Pamela Bridgewater also attended the conference.
Other Bahamian participants at the conference included: Chief Counsel in the Attorney General's Office Kayla Green-Smith, Police Superintendent Elaine Sands, First Assistant Secretary Bureau of Women's Affairs Christine Campbell, Deputy Director of the Crisis Centre Donna Nicolls and US Embassy Nassau Political-Economic Specialist Anne Marie Bain.