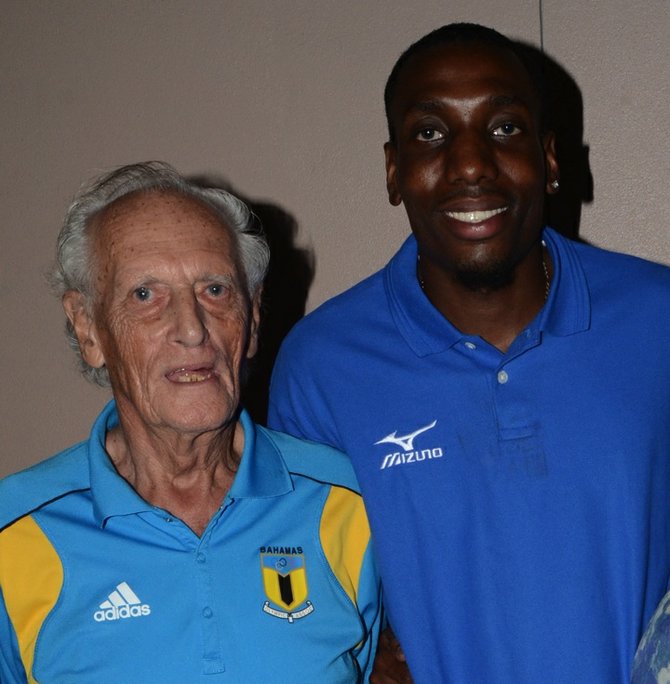 By RENALDO DORSETT
Sports Reporter
rdorsett@tribunemedia.net
A groundbreaking 2011 season for the Bahamas' leading jumper set the stage for what, according to his coach, will be an even greater series of performances in 2012.
Trevor Barry set a new indoor personal best with a leap of 2.29m for a second place finish on the first stop of the 8th Moravian High Jump Tour this weekend in Hustopece, Czech Republic.
Russian Aleksey Dmitrik took first place with a world-leading 2.35m jump.
Barry's head coach Keith Parker said he expects Barry to have the best performances of his career this year.
"We all know 2011 was great for Trevor as he really emerged internationally, but this season we can see him take it to the next level. He has trained like a fiend in the offseason and early on we are seeing we can see the result, but he can do better and we have not seen his best jump yet," he said.
"I expect Trevor to reach as high as 2.32 or 2.35 indoor and outdoor I see him jumping above 2.35 later in the year."
Barry's jump currently placed him 11th on the indoor season thus far. He has three more meets on the European Circuit before he returns home prior to final preparation for the IAAF World Indoor Championships March 9-11 in Istanbul, Turkey.
Barry began the year when he won the high jump in a new Bison Invitational meet record of 7' 4 1/2" (2.25m) to open his 2012 indoor season at Fargo, North Dakota. He had held the previous record of 7'3" since 2008.
Parker travelled there for the meet. "Trevor has been following a demanding weight and sprint programme for the past three months. This was his first time jumping since last September and although his timing was a little off, he had some great clearances."
Barry said it was important for him to have coach Parker for his opening competition.
"We spent hours analysing film and deciding on the technical aspects of my jumps which could be improved. I felt as though I had lost a lot of rhythm in the approaches, although my increased strength still allowed me to jump quite high - only two centimeters below my best ever indoor performance.
"I am going to Europe for five meets beginning on January 28 and expect to clear some good heights," he added.
Coach Parker agreed and said he expects Barry to jump 7' 8" or even higher. "He's definitely capable of these heights now."
Barry is scheduled to leave for several meets in Europe on January 28 as he prepares for the World Indoor Championship in Turkey March 9-11.
Barry rose to both local and international prominence in 2011. His season earned the top award from the BAAA - named after world class high jumper Charlie Major from the 1920s.
Trevor Barry won the bronze medal in his specialty at the IAAF World Championships in Daegu, South Korea. Barry, with a best of 2.29m (7'7-1/4") when he arrived in Korea, improved his best to 2.32m (7'7-3/4").
After Daegu, Barry medalled in several European meets. Barry also won the high jump at the Central American and Caribbean Sr Championships in Mayaguez, Puerto Rico.