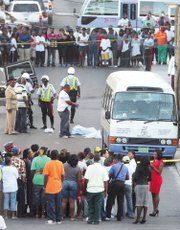 THE family of the 4-year-old girl who was accidentally struck and killed by a bus last week is seeking legal advice, The Tribune has learned.
This comes after it was confirmed by police that the man driving the bus has been questioned and released without charges.
According to well-placed sources, the family has retained the services of John Bostwick, who is also the FNM candidate for Bain and Grants Town, the constituency in which the family lives.
When contacted, Mr Bostwick confirmed he had been in contact with the family but would not comment on whether or not he was their lawyer.
Superintendent Carolyn Bowe, officer in charge of the Police Traffic Division, said the investigation is continuing but at this point, the police have not charged anyone in connection with the incident.
Police have not officially identified the little girl, however The Tribune understands her name was Karis Thompson.
She was killed on January 25, after being hit by a bus on East Street while attempting to cross the road.
Police say a 21A bus was travelling north on East Street in the area of Lewis Street when the accident occurred.
An eyewitness, who wished to remain anonymous, claimed the bus was attempting to overtake another car when the little girl was hit.
"A car stopped to let the mother cross the road. The bus was in the back of the car. After the mother got across the road, the bus tried to get around the car and did not see the little girl running behind her mother. He wasn't speeding or anything, but because the girl is so small she went under the back tyre. He never saw her coming," the witness said.
The Tribune understands the toddler was a student at See-Saw Christian Academy and lived in the Hay Street area.
Rodney Moncur, the DNA's candidate for Bain and Grants Town, where Karis lived with her family, said when he heard the news he was heartbroken.
"I have not spoken with the family as yet," he said, "because I just learned recently that they lived in Bain and Grants Town, but I fully intend to. I want to publicly extend my heartfelt condolences to the family.
"I can only imagine what they must be going through. I pray the police are handling this case with caution and care."
Of the 44 people who died in traffic accidents in 2011, 12 were pedestrians.