THE Progressive Liberal Party expressed "disbelief and amazement" that five years after voting for the National Health Insurance scheme and then failing to implement it while in office, the FNM now wants to point the finger at the PLP.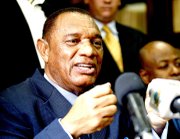 The PLP, which created NHI, issued a statement calling recent comments by the governing party regarding the scheme "clearly disingenuous".
It said: "The record reflects that the PLP introduced and passed legislation for the National Health Insurance scheme after detailed consultation with industry stake-holders and Bahamians in general during the 2002-2007 period.
"The legislation was then passed in Parliament and voted on favourably by all FNM members, including Hubert Ingraham, who spoke on behalf of that party at the time.
"No doubt coerced by special interests, it is the FNM whose attitude toward universal health care for Bahamians changed.
"Like Urban Renewal, in an attempt to discredit the legacy of Perry Christie and his government, the Hubert Ingraham-led FNM government shelved the scheme and determined that its full implementation was not in the interest of the Bahamian people."
Instead, the opposition party said, the FNM selected the portion of the scheme covering prescription drugs and repackaged it - "leaving thousands of Bahamians without hope of medical care when struck by serious illnesses."
The party said: "This has resulted in the callous deaths of many Bahamians. Blood is on their hands, and the last thing the FNM should be doing, is seeking to gain political mileage from such a meaningful issue."
With regard to the FNM's claim that infant mortality rates "rose significantly" during the Christie administration, the PLP stressed that the policies governing maternal and child health care remained those left in place by the first FNM government, namely:
Free ante-natal services to all using the public health facilities;

Mandatory HIV screening of pregnant women;

Free anti-retroviral medication and follow-up care for infected individuals.
The PLP said infant mortality is a multi-faceted issue that depends upon a number of factors, such as access to ante-natal services for high risk persons, patient compliance with established ante-natal protocols, cultural and language barriers, and human resource issues.
It said: "The infant mortality rate in our small nation is significantly impacted by influxes of illegal migrants who may remain marginalised from established healthcare protocols due to language and cultural barriers.
"The swing in infant mortality rates during 2002-2006 is not due to any changes in political or public health policies.
"We now ask the current FNM government to provide the results of the investigation launched by the Ministry of Health into this matter and also to release the infant mortality rates for the subsequent five years (2006-2011)."