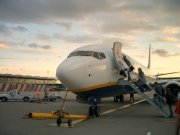 By NATARIO MCKENZIE
Tribune Business Reporter
nmckenzie@tribunemedia.net
THE BAHAMIAN aviation industry was dealt another blow over the New Year's Day holiday weekend, with widespread delays resulting in extra fuel costs, Tribune Business was told yesterday.
Executives at the Nassau Airport Development Company (NAD) pointed to flight congestion, and the saturation of Miami airspace, which resulted in a hold on traffic at Lynden Pindling International Airport's busiest time - when more than 8,000 passengers were processed.
Some airline executives speaking to Tribune Business yesterday, though, said that while this may have been the case, current negotiations between the Government and the air traffic controllers may have had some part to play in the situation as well.
Nathaniel Gibbs, managing director of Southern Air, told Tribune Business: "It had a tremendous effect on our operations. We were late for all our flights, and because of that we burned a lot of fuel on the runway. We experienced about two-hour delays on our flights Monday evening."
Betty Wilson, country manager for American Eagle, told Tribune Business: "We saw a huge decrease in delays as compared to last week, but we did have one or two flights that sat on the gate for about an hour-and-a-half, so it was minimal compared to last week.
"In terms of fuel costs, it definitely would have impacted. Another factor would have been the number of passengers who were misconnected."I think it's really in the mid-day that we see these delays occurring, and that's because of the volume during the 11am to 4pm period."
Alan Sweeting, general manager at JetBlue, said: "We had four flights that were impacted in excess of three hours each. Customers' connections were all missed. I must admit that we were overwhelmed in terms of traffic, but certainly there was a lag in time on departures. It appears the enthusiasm wasn't there for efficient movement.
"Aircraft weren't able to come in because all the gate were full. They weren't allowing the aircraft to leave the gates, so the arrivals were impacted also. As far as inconvenience and customers being dissatisfied, it would have a major impact on the tourism product. We find the disruption happens just after 2pm in the peak of things."
Sky Bahamas chief executive, Randy Butler, told Tribune Business: "It's appalling that the Government has allowed this to happen. I spoke to the folks at air traffic and they said that it was normal congestion.
"We have to take it as that. However, because of how it was done it did not appear to be that, because there were too many incidents where nothing seemed to be going on."
Mr Butler added: "The Government does not seem to care about the domestic airlines. They should not have allowed his to happen when the air traffic controllers told them a month before that it was not going to be a happy Christmas, based on the action they were going to take."