By SANCHESKA BROWN
Tribune Staff Reporter
sbrown@tribunemedia.net
FORMER Member of Parliament for South Andros Whitney Bastian hit out at the "subservient nature" of sitting members of Parliament yesterday.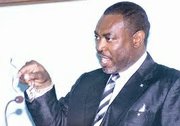 Mr Bastian said too many MPs would rather bow to Prime Minister Hubert Ingraham than stand up for their constituencies.
"They think the Prime Minster is their boss. He is not. He was elected just like they were by the people. These MPs do not understand their role. They are not supposed to bend and beg for their constituencies. The budget allocates them money and that money is theirs to use. The Prime Minister doesn't owe them anything. The constituency who they represent is entitled to their fair share," he said.
"They are lousy. They sit down in Parliament and allow other members to take from them what belongs to their people. That is not supposed to happen. I don't blame Mr Ingraham for spending $40 million in Abaco, that's his home. He loves his home and he would do what it takes for his home and that's what every Member of Parliament should do for their people who elected them."
Mr Bastian said he originally planned to retire from politics, but because of the "lackluster" performances of sitting MPs, he was obligated to run again.
Mr Bastian served as an Independent MP for the South Andros constituency from 2002 -2007.
His comments came on the sidelines of announcing his independent candidacy for South Andros and Mangrove Cay.
Paul Moss and Glen Rolle also announced they will be running as independents for Garden Hills and Carmichael, respectively.
Mr Moss said he chose to run as an independent because he believes the Bahamian people deserve better than what they have been getting from the PLP and the FNM.
He said: "Today marks a time in our history where we the Bahamian people have an opportunity to change the course and the direction of our country. You send the politicians to Parliament to represent your views but they represent an agenda that is often not in your best interest. It's time for some independence of thought. Independent candidates and their supporters will be the deciding force in this election. We have to send a message that enough is enough."
Mr Rolle said while offering himself as an independent candidate would not have been his preference, he knows first-hand the dangers of party politics.
"Politicians work best and are far more effective when the they are independently minded and are free from party restraints and propaganda," he said.
"Independents are lobbyists not restricted by party lines and are forthright in bringing their constituents' concerns to parliament as they are loyal and accountable only to the constituents whom they serve."
All three men say they are more than confident of victory.