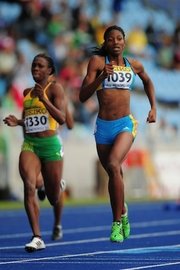 By BRENT STUBBS
Senior Sports Reporter
bstubbs@tribunemedia.net
THE accolades continue to pour in for quarter-miler Shaunae Miller, yet through it all, she remains humble.
On December 31, Miller was named as Caribbean Track Life International Online Magazine as the Female Rising Star for the 17-year-old's sensation recovery from her disqualification at the Carifta Games to her triumph at the World Youth Championship.
The article, written by O'Neil A Reid, named Jamaican world sprint champion Yohan Blake as the Man of the Yea and his compatriot Veronica Campbell-Brown as the Woman of the Year.
Grenada's Kirani James, who stunned the field by winning the World Championship's 400m title, was named the Male Break-Through Performer of the Year.
On January 8, Miller joined James as the Central American an Caribbean Junior Female and Male Athletes of the Year respectively, while Campbell-Brown and Blake were selected as the Female and Male Athletes of the Year.
At the same time, Miller and three athletes were recognised by Track Alert in their various categories for the same awards.
Although she's not been provided with anything tangible, Miller said she is just thrilled to have been recognised in the manner that she has on the international scene.
"It feels pretty good. I'm honored," said Miller, who added the World Junior title in Lille, France to the gold she clinched at the IAAF World Junior Championship crown in Moncton in 2010.
For Miller, a 12th grader at St Augustine's College who is bound for Auburn University in August, said it's been a whirlwind experience for her, but she's taking it all in stride.
"I'm doing pretty good, I guess," she lamented. "It feels good to be recognised with people like Kirani, who as a youth, won the title at the World Championships.
"So to also be recognised with people like Blake and Veronica is very special for me."
Miller, now being trained by her father, Shaun Miller, said she's just eager to get back on the track and running again.
"My training has been going great right now. I'm doing a lot of light training," she noted. "I'm still waiting to get in my opener. I'm looking forward to it."
Her father said the media has been very gracious to his daughter and he and his wife, May Miller, are very appreciative of all the accolades bestowed on Shaunae.
"With her being recognised in the Caribbean with guys like Blake is humbling and we appreciate everything that the IAAF did for her when they put her on the calendar for their 100th anniversary," he stated.
"We're really looking forward to this year, hoping that she stays healthy and we're rushing anything. We're going to take it very slow with her going from one stage to the next with her training, nothing strenuous."
Miller said his daughter is definitely looking forward to defending her World Junior Championship title in Barcelona, Spain in July and of course, the ultimate goal is to compete at the Olympic Games in London, England in July-August.
Her mother, May, said her daughter is well grounded in the word of God and that is what she attributes to her tremendous success so far.
"I feel good about it. The only words that come to mind every time she compete is that "she's blessed and highly favored. I stay on my knees praying for her, so that is the only words that I can describe her performance".
And that has been one of the reasons why Shaunae Miller has continued to remain focussed on the goals laid out for her.
"I try to give her spiritual advice. I continue to tell her to look to the hills from whence cometh her help because all of her strength, all of her help comes from God," she quipped. "I try to keep her in my prayers and remind her that she can do anything through him."