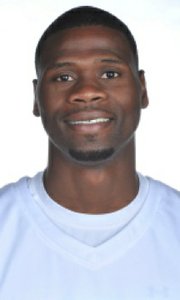 By RENALDO DORSETT
Sports Reporter
rdorsett@tribunemedia.net
Early into the 2011 season, it appeared as if his senior season and second in NCAA Division I basketball would be a breakout year for J R Cadot - he has slowed since with recent setbacks - but with his last two outings appeared to be back on track in his lead role.
Cadot has scored in double figures his last two games, and perhaps more importantly, was once again a force on the boards for the TCU Horned Frogs in the Mountain West Conference.
Cadot posted 15 points and nine rebounds in a 71-54 loss to New Mexico on Saturday night.
On Wednesday, his 13 points and seven rebounds helped the Horned Frogs to a 59-56 win over Air Force, which included a 7-7 performance at the free throw line.
Cadot had reached double figures scoring in just two of the previous nine games.
Cadot currently averages 10.1 points and 6.8 rebounds per game as TCU holds a 12-8 record on the season, sixth in the Mountain West Conference. He currently leads the team in rebounding and is fourth in scoring.
The Horned Frogs face Wyoming this Wednesday at home in the Daniel-Meyer Coliseum in Forth Worth, Texas.
He opened the season with a strong effort in a 73-72 win over Florida Gulf Coast when he totalled 16 points and seven rebounds. And he recorded 18 points and 12 rebounds in an 80-69 loss to Ole Miss and has scored in double figures in three consecutive outings, with 11 in a win over Houston and 14 in a win over Lamar.
Cadot's highlight reel play of the year came with his game winner against Houston. He took the ball near halfcourt, weaved through a trio of players to attempt a reverse layup and after the miss, followed with his own rebound and a fallaway layup at the buzzer to win it.
In his junior season, Cadot ended the year with averages of 7.9 points and 5.8 rebounds per game. He also shot 66 per cent from the field, 55 per cent from the free throw line and 37 per cent from beyond the arch.
At 6'5", 200 pounds, he also led the Horned Frogs in rebounds with 5.8 per game. He had his best game of the season in a 99-72 blowout win over Chicago State on December 28 when he finished with a double double - 19 points and 10 rebounds and was one of two for the year after an 11-point, 10-rebound performance in an 81-77 win over Texas Tech on December 8. TCU's next contest will be Saturday on the road against the Asheville Aces.
Cadot spent the summer as a member of the Bahamas 2011 CBC Championship team when he averaged 10.8 points and 7.1 rebounds per game.
Cadot starred at C V Bethel Senior High where he led the team to a GSSSA title. He was named to several junior and senior national teams before taking his game to the US at Sheridan College.
Cadot posted impressive numbers at the junior college which garnered the attention of many D I schools across the country.
In his freshman season, he averaged 15 points and 6.6 rebounds per game but surpassed all expectations in his sophomore campaign.
As a sophomore, Cadot averaged 17 points, 7.8 rebounds and 2.4 assists per game. He was named to the NJCAA Third Team All-American and First Team All-Region IX. He posted eight games of 20 points and led the Generals to a 27-7 record overall.
Cadot's highlight game of his young career came just hours after learning of the passing of his father on February 23, 2010.
He managed to find the fortitude not only to play, but to produce a 32-point effort which included the game-winning basket to give the Generals the North Sub Regional Championship. Heading into the D I ranks, he was ranked 64th overall and 27th amongst guards by JucoJunction.com, the foremost recruitment website for junior college prospects.