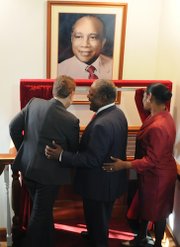 SIR Cecil Wallace-Whitfield has been hailed as an integral part of a generation of great men and women who led the struggle for Majority Rule and equality in The Bahamas.
Prime Minister Hubert Ingraham underscored Sir Cecil's legacy during the official dedication ceremony of Mr Ingraham's new office last Friday.
"When Sir Cecil came to believe that some of the ideals of that struggle were not being honoured, he was at the forefront of the formation of a new political party," Mr Ingraham said.
"This singular event ensured a viable two-party system. It was vital in securing and deepening democracy in The Bahamas.
"Fittingly, even as we dedicate this centre to the memory and legacy of Cecil Wallace-Whitfield, we also pay tribute to all of those who championed freedom and democracy in the Bahamas; often at great sacrifice."
The relocation of the original Cecil Wallace-Whitfield Centre, which serves as the Office of the Prime Minister, to the new site was required to make way for the construction of the new Baha Mar Resort.
Mr Ingraham said Sir Cecil would be pleased that 45 years after he helped bring about Majority Rule, and approximately 40 years after he helped to form the Free National Movement, the country he loved and the party to which he devoted his considerable energies, continue to flourish.
Archdeacon Father Keith Cartwright performed the blessing/dedication of the Cecil Wallace-Whitfield Centre.
The Prime Minister participated in planting a Bahamian Lignum Vitae tree located adjacent to the area where two native trees were planted by Sir Lynden Pindling and Dame Margaret Thatcher in 1985.
Dame Margaret, Prime Minister of Great Britain at the time, was in Nassau to participate in the 1985 Commonwealth Heads of Government meetings.
The tree planting then was in honour of the 50th anniversary of Roy West in The Bahamas. Roy West was the occupant of the premises at that time.
Lady Whitfield and Mrs Delores Ingraham, wife of the Prime Minister cut the ribbon to the doors of the centre.