By NEIL HARTNELL
Tribune Business Editor
A RENEWABLE energy provider has told Tribune Business it felt "sidelined" by the Bahamas Electricity Corporation's (BEC) decision to close its open bidding process and then subsequently sign an agreement with Ocean Thermal Energy Corporation (OTEC), adding that this nation could be "two years ahead" if it had proceeded with the former.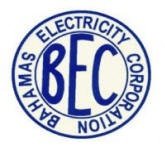 Thomas Schneider, president of Canadian-headquartered Schneider Power, which has partnered with a Bahamian firm to form Eleuthera Wind Power, the firm that will be supplying energy for the Water & Sewerage Corporation's Tarpum Bay reverse osmosis plant, said he had never received a satisfactory explanation from BEC as to why it abruptly cancelled its renewable energy Request for Proposal (RFP) tender launched in 2008-2009.
Schneider Power had been among the four-five shortlisted finalists, he added, with its proposal to supply the BEC grid with 14 Mega Watts (MW) of electricity with wind power-generated energy in New Providence, Abaco and Eleuthera.
Telling Tribune Business that the RFP process "just disappeared", Mr Schneider described as "hogwash" a response he received from BEC's executive chairman, Michael Moss, saying the tender was aborted because renewable energy could not be integrated into the Corporation's grid.
Indicating that Schneider Power's Eleuthera Wind Power venture was decided to prove the company's technology, and capabilities, to both BEC and the Government, Mr Schneider said: "We would love to have more opportunities in the Bahamas. Unfortunately, at this time, BEC has not really moved forward in entertaining any renewable energy options.
"That RFP just disappeared. There was never an answer, so we're not sure why this never arrived at a conclusion......... Then, all of a sudden, BEC made this announcement with OTEC, and there was never a public bid there, so we feel sidelined by BEC.
"We spent a lot of money on this process, and nothing happens. Then, suddenly, someone gets the [go ahead] from BEC. That's great for the Bahamas."
The original RFP process appeared to come to an end after the German consultants, Fichtner, were engaged by the Government under the auspices of Inter-American Development Bank (IDB) financed renewable energy projects to undertake a comprehensive review of BEC and the Bahamas' renewable energy prospects.
Their reports were completed, and nothing much was heard on the renewable energy front in relation to BEC until, in fall 2011, its executive chairman, Michael Moss, announced the signing of a Memorandum of Understanding (MoU) for the possible construction of two ocean thermal energy plants in the Bahamas to produce 10MW of power.
"If that RFP was implemented, the Bahamas would be two years ahead, and the only persons benefiting would be the end consumer," Mr Schneider told Tribune Business.
Schneider Power is now moving to deploy the technology it hoped BEC would benefit from to the benefit of the Water & Sewerage Corporation, and General Electric (GE), operator of the Tarpum Bay reverse osmosis plant. That $2 million wind power project is intended to be the first phase of a $12-$14 million nationwide roll-out, with wind plants supplying a further six reverse osmosis plants in the Family Islands.
"We were absolutely disappointed, but are not giving up on this," Mr Schneider said of the aborted BEC RFP. Referring to his own home at Cable Beach, he added: "Every time I see the electricity bill at my house, it gives me motivation to move forward.
"Our hope is the concept shows the powers that be at BEC this idea is good for the country."
Mr Schneider said that after he wrote to Mr Moss, asking what happened to the original RFP in the wake of the OTEC deal, he received a reply from BEC's executive chairman stating that it was annulled because a study had shown renewable energy could not be integrated into BEC's grid.
"That is just hogwash," said Mr Schneider, "to say renewable energy cannot be integrated into the grid in the Bahamas. When developing countries in southern Africa and Kenya can integrate renewable energy into their grid, you cannot tell me that is not possible in the Bahamas."