By NEIL HARTNELL
Tribune Business Editor
RESOLVING a long-running dispute that has tied up 25,000 acres of prime real estate is "critical" to potentially creating "thousands of jobs" and reversing Long Island's depopulation, a Court of Appeal ruling having backed a previous verdict on an $11.5 million 'deal' for the property.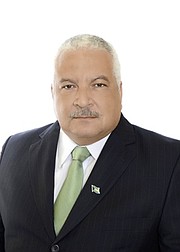 Mario Cartwright, the Long Island Chamber of Commerce president and Democratic National Alliance (DNA) candidate for the constituency in the upcoming general election, told Tribune Business that the dispute had effectively tied-up some 20 miles of the island's coastline.
The property in question is the former Diamond Crystal salt ponds and plant, once Long Island's major employer, and Mr Cartwright said the land was ripe for being divided up and sold to facilitate resort, second home and other real estate-based developments.
He was speaking after Tribune Business obtained a Court of Appeal ruling on a nine-year dispute between the property's current owner, Maritek Bahamas, and Peter Hall over the latter's $11.5 million offer to acquire it.
Noting that the former Diamond Crystal property comprised 24,662 acres, Justice John, in his judgment on behalf of the whole Court of Appeal, said Mr Hall made his $11.5 million purchase offer to Maritek Bahamas on October 11, 2002, submitting it "in the format of a contract".
"On October 28, 2002, [Maritek Bahamas] signed the 'contract' incorporating an amendment which addressed the completion date," the Court of Appeal judgment recorded. "This was then forwarded to Mr Hall, who did not acknowledge or respond to the amendment regarding the completion date of the proposed purchase by him of [Maritek]'s land.
"There then ensued some extensive communications between Mr Hall and the respondent regarding the 'contract' for the sale of the land."
Maritek Bahamas ultimately initiated a legal action in the Supreme Court some three years later, in October 2005, seeking declarations that either there was no legally binding contract with Mr Hall, or that if there was any such agreement had been "validly terminated" because the latter had failed to pay the required deposit in accordance with the agreed terms.
In response, Mr Hall filed a defence and counterclaim in July 2007, seeking a declaration that the October 11, 2002, contract was valid, and that he had fulfilled his terms and was "not in breach of contract". He also sought an Order that the deposit be released to himself.
Supreme Court Justice, Cheryl Albury, found in favour of Maritek Bahamas on December 15, 2008, ruling that there was never a binding contract between the two parties.
This was again the main issue before the Court of Appeal, particularly whether the two parties reached an agreement given Maritek Bahamas' proposed alteration to the document submitted by Mr Hall.
Justice John concluded: "In my opinion, it is clear on the evidence that an agreement was never concluded/settled between Peter Hall and Maritek, as they never had 'agreeing minds'.
"That is, in my view, Maritek's contemporaneous forwarding of the purported contract, along with an amendment to Peter Hall, amounted to a refusal to enter into the agreement on the terms of the written document, and instead was a counter-offer which was rejected by Peter Hall's refusal to agree to the same.
"It cannot, in my opinion, be proven that Peter Hall and Maritek intended that all the expressed terms of their agreement should be recorded in a particular document(s), especially since Peter Hall never agreed to the proposed amendment."
Justice John, on the overall court's behalf, said he was "not convinced" that Maritek Bahamas' proposed amendment was a "variation" to the contract, because the two parties never agreed to this, either.
"It is my opinion that Peter Hall and Maritek did not have a binding contract," he ruled.
The 25,000 acres subject to the dispute was once the main driver of Long Island's economy, providing the biggest source of employment on the island. Diamond Crystal opened its plant in the 1970s and, after it closed due to its US parent filing for bankruptcy, was taken over by World Wide Protein (Bahamas), a shrimp farming company.
That venture, too, failed with the shrimp farming closing after several years of operations in the mid-1980s. World Wide Protein is understood to be the predecessor to Maritek Bahamas.
The current legal dispute is arguably yet another example where large, prime tracts of valuable Bahamian real estate seemingly become bogged down in never-ending disputes involving overseas investors, depriving this nation and its people of its potential use and economic benefit.
Recalling how he, too, once worked for Diamond Crystal, Mr Cartwright, the Long Island Chamber of Commerce president, said of the court ruling: "That's the old salt plant. It's almost 20 miles of Long Island coastline involved.
"They [World Wide Protein] were undercapitalised. They had a good concept for shrimp farming and raising red fish, but they couldn't get additional financing and went belly-up.
"It's such a prime piece of land, and my feeling - off the cuff, and without doing any research, is that the Bahamas government should have bought that land back and offered it to various investors."
Suggesting that the former Diamond Crystal property should be carved up, because it is "too big for one person to develop", Mr Cartwright added: "Since 1985 until now, it has been caught up in various disputes, just sitting there.
"The biggest problem for Long Island is unemployment with our youth. If that land is developed it would provide employment not just for those on Long Island today, but those in Nassau and Freeport who want to come home."
Describing resolution of the Maritek dispute as "critical" to growing Long Island's economy and providing jobs, Mr Cartwright told Tribune Business: "You have a Long Island full of senior citizens, and the very young and middle age population is very small because of the lack of opportunities.
"It was used as kind of an industrial site for salt production, but the property is best used for tourism development. You have 20 miles of beautiful Long Island coast. The ideal thing will be resort and second home ownership. It could be thousands of jobs, based on the size of the property."
Pledging that he would seek to resolve the Maritek situation if the DNA was elected to office, Mr Cartwright said: "I'm quite sure they [Maritek] would like to move on and have it resolved, and when I'm elected I will jump on that right away, and do it in a manner where all parties are satisfied with the settlement."