By RENALDO DORSETT
Sports Reporter
rdorsett@tribunemedia.net
THE final day of the 9th annual Tour of the Bahamas was a productive day for local riders while the winners from the most high profile visiting team dominated in the Pro division.
Bahamian resident Lee Farmer closed out the competition on a high note when he took stage three of the event, Sunday's 57-mile road race.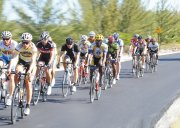 Jay Major, in his first year making the transition from the junior category, competed as a category three rider. The current Caribbean junior champion finished third in the 42-mile road race to close out the competition. He finished third in stage two in 1:33.31s and eighth in stage three in 2:14.25s.
The junior division was particularly productive for the Bahamas where Anthony Colebrook, one of four local cyclists in the 15-18 division, took first place in an overall time of 1:56.16s.
Justin Minus was third in 2:01.19s, Antioniece Simmons fifth in 2:13.34s while Michael Seymour was sixth in 2:23.11s.
In the Junior 10-14 division, Liam Holowesko took fifth place with 2:02.42s, Cecil Williams eighth in 2:12.02s and Antonio Roberts ninth in 2:25.49s.
In the Masters 50+ category, Mark Holowesko finished eighth, racing as a member of the Garmin-Transitions team in 4:08.20s.
In the 40+ category, Tracey Sweeting finished 13th overall in 3:45.03s.
Patrick Paul led a deep field of Bahamians in the Category 4-5 with a fifth place finish overall in 4:04.26s.
Barron Musgove finished eighth in 4:04.36s, Sean Farrington 11th in 4:05.51s, Van Demeritte 12th in 4:13.29s, Ryan Reid, Robert Whittingham and Rob Rothwell closed out the field of 15 riders.
The Pro category first place winner and $10,000 prize recipient was American Ty Magner from the visiting BMC Hincapie Development Team.
The BMC squad included Tanner Putt, Ty Magner, Tyler Karnes, AJ Myer, Blair Turner and Isaac Enderline.
Sports director Thomas Craven called it "a versatile squad of riders for the course, which set them up to contest the GC and individual stage wins."
The category three winner was Roslan Rivera in a time of 4:33.26s, Leighton Anderson took Category 4-5 in 4:03.56s, Andy Mapple took the Masters 40+ in 3:40.22s, Mark Stein the Masters 50+ in 3:41.44s and Alexander Dijkema the Junior 10-14 in 1:56.18s.
In the two women's categories, Kathleen Billington finished first in the 1-3 in 4:09.51s and Catherine Davis took first in 1:29.26s.
The race comprises three stages - stage one, a short time trial, stage two, a circuit race and stage three, which proved to be a deceptively hard course marked by a section with strong winds likely to split the peloton.