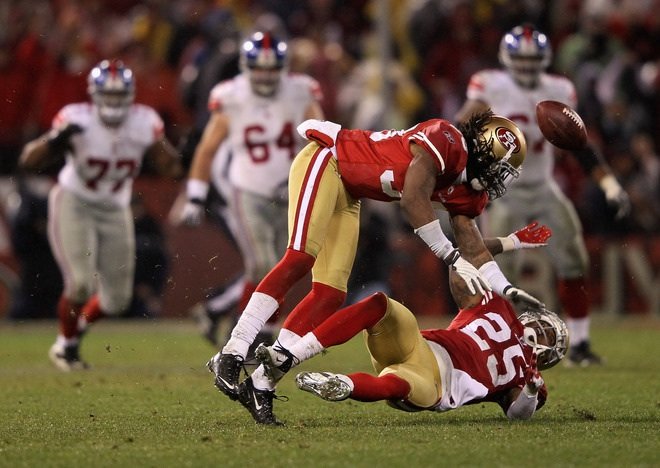 By JEFFARAH GIBSON
Tribune Features Writer
THERE was one minute left in the third quarter of the 2012 National Football Conference (NFC) championship game between the San Francisco 49ers and the New York Giants, when 49ers cornerback Tarell Brown collided hard with teammate and safety guard Dashon Goldson.
The two teammates attempted to intercept a ball thrown by Giants quarterback Eli Manning. The play was no text book success. Racing from his position, Goldson knocked Brown in the helmet, sending him straight to the ground. Brown was down for several minutes before getting up and limping off the field never to return.
"I didn't feel like I was knocked out. It shocked me. It definitely shocked me for a second," Brown said.
Contact sports can be brutal games. Collisions are accepted as a part of the play, but they bring with them many problems. Concussions and other injuries occur regularly in sports such as American football, kick boxing, martial arts, hockey, rugby, which are all considered contact sports.
In these games the risk of injuries are much higher when a player steps onto the field, and can have long-term effects on the body and overall health.
Concussions are one of the most common injuries suffered by players. A concussion is a mild injury to the brain that causes a temporary loss in brain function. Concussions are caused by a bump, blow, or jolt to the head that can change the way the brain normally works. Permanent damage is rare.
"A concussion can cause obvious symptoms in the sufferer -- light-headedness, fainting or nausea -- or can go rather unnoticed. The common treatment is plenty of rest, and most people recover in anywhere from a few hours to a few weeks," ESPN stated.
Loss of memory, confusion or inability to concentrate, feeling light-headed, and nausea are all symptoms of a concussion the, website explained.
Although permanent injury to the brain is rare, several ex football players, are suing the NFL for brain injuries, they say have left them struggling with problems years after their professional days.
They also said that as a result of the brain injuries they are experiencing long term effects such as memory loss, sleeplessness, and headaches, ESPN said.
"I have never had a concussion before but I have had lots and lots of injuries playing football," said Danny, a former university football player.
"I sprained my MCL and had a hyper-extended elbow. The medial collateral ligament is the ligament that links the thigh bone and the shin bone. The ligament tore because of force used by my opponent. It was very painful," he told Tribune Health.
Danny was out of the game for six months.
"After the knee surgery it took six months to heel. I had to stay off of it. Could not play any sport for that matter. After it healed completely I was able to get back and play," he said.
Danny's injuries from several years ago have not hindered him from playing sports. He still plays flag football and basketball.
Like Danny, Leroy has also suffered countless injuries as a result of playing sports. Hitting jumpers from three point range caused him a major injury he said he will never forget.
"I was playing with my college team and it was coming down to the last seconds in the game. I went up, shot the ball and my shoulder came out of place. I screamed like a little girl because that was extremely painful. I was trying my hardest to hold back tears. I have had worse injuries than that, but for some reason the pain I felt when I dislocated my shoulder felt worse than anything," he said.
"I couldn't play for a couple weeks. That was my doctor's orders. He advised me not to even try pick up a ball because there was good chance of the shoulder dislocating for a second time. I am not sure how this old injury will effect me. Every now and then I get pain," he said.