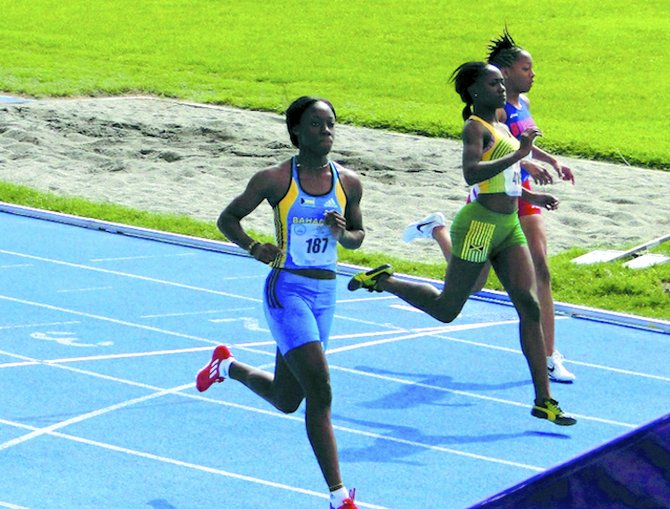 Going into Sunday's final session of the Central American and Caribbean Junior Championships, Team Bahamas was sitting in sixth place in the medal table.
At the meet in El Salvador, the Bahamas had accumulated 29 medals - three gold, six silver and 20 bronze. Jamaica was leading with 30 medals - 14 gold, 10 silver and six bronze.
Mexico and Puerto Rico was tied with 14 medals apiece, but they had eight and five gold respectively.
On Sunday morning, the Bahamas picked up two more bronze medals from Taryn Rolle in the under-28 girls triple jump with a leap of 11.77 meters and Tamara Myers in the under-20 girls triple jump with her leap of 12.42m. Antonique Butler was fifth with 11.63m.
In other events, Juannae Lewis false started in the under-18 girls 400 meters and failed to advance. But in the under-28 boys 400 semifinal, Janeko Cartwright ran 48.82 for third in his heat to advance to the final, while Ashley Riley ran 49.35 for third as well in his heat but did not advance.
In the 400m under-20 boys semis, Julian Munroe was fifth in 48.45 in his heat and did not advance, while Elroy McBride got third in his heat in 48.02 and advanced to final.
In the under-28 girls 100m hurdles semis, Devynne Charlton clocked 13.92 to win her heat and advance to the final and in the under-20 girls 100m hurdles semis, Devinn Cartwright did 14.07 for second in her heat to also advance to the final.
In the boys under-18 110 hurdles semis, Kirk Lewis got second in his heat in 13.81 to advance to the final. He was joined by Xavier Coakley, who ran 14.07 for third in his heat to also qualify for the final.
On Saturday night, the medal winners were as follows: Teshon Adderley - 1500m bronze; Carmiesha Cox - 200m silver; Blake Bartlett - 200m bronze; Brashae Wood - discus bronze; Youth Girls 4x1 silver; Youth Boys 4x1 bronze and Junior Boys 4x1 silver.
In Tuesday sports, the complete results will be posted.