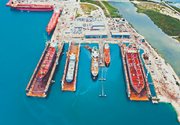 Grand Bahama Shipyard has described its now-closed cruise ship 'repair season' as "extremely successful", having docked 16 ships, a number that is set to increase to 17 for 2012-2013.
Noting that its docks had been full since the last cruise ship departed on May 9, the ship repair facility added that it had secured several tanker and container ship repair contracts for the 2012 summer.
"This season can be considered extremely successful," said Graham Couser, the Grand Bahama Shipyard's vice-president for sales and marketing. "The season traditionally spans September through May, and during this period we have docked 16 cruise ships."
"This season we have performed a diverse range of tasks, from pre-fabrication and installation of aluminium blocks to contain cabins for Celebrity, Pod type propulsion unit replacement projects for Royal Caribbean Cruise Lines, to laundry machinery change-out projects for Carnival, along with the usual general repair and maintenance works."
Major assignments were the 'revitalization projects' undertaken on the Millennium class cruise ships (Infinity, Summit and Millennium).
These projects opened another chapter for the Grand Bahama Shipyard by fabricating aluminium structures for each vessel to accommodate an extra 60 cabins.
The cabins were fabricated by Almaco in Europe, delivered to Grand Bahama in 'flat-pack', then assembled and installed as completely outfitted cabins with balconies.
The Grand Bahama Shipyard also supported the other contractors engaged by Celebrity to build new or refurbished bars, restaurants and public spaces by handling some 300 containers.
The Grand Bahama Shipyard added that the 'non-cruise' season had started satisfactorily.
"In the current financial state of the industry, we here at Grand Bahama Shipyard are fortunate to be in a position to report that our docks have been full since the beginning of May," Mr Couser continued.
He added that significant projects secured by the Yard are the Aframax tanker Yare, operated by Venezuela's state oil company, PDVSA, on which some 500 tonnes of steel will be replaced, keeping the company busy until September.
The fully cellular container ship, Buenos Aires Express, which suffered an engine room fire, is expected to be completed by early July.
Grand Bahama Shipyard's involvement is the intensive cleaning of the smoke-affected compartments, and supporting the owners' contractors who were engaged for required machinery and electrical overhauls.
The Grand Bahama Shipyard has also secured a contract with German managers, Claus-Peter Offen, for the docking, survey and maintenance programmes for six container ships.
The Grand Legacy, a car carrier operated by Cido Shipping HK Limited, which sustained shell damage, has berthed for emergency repairs and is expected to be at Grand Bahama Shipyard for four days during which 3.3 tons of steel will be replaced.
Mr Couser said: "The summer months are consistently slower for the yard in general.
"Whilst we continue to see the traditional drop off in cruise, tanker and container vessels visiting the yard, the projects previously mentioned, supported by preparations for the next cruise season, where we look forward to welcoming 17 cruise ships, support our optimism for continued success."