By LAMECH JOHNSON
Tribune Staff Reporter
ljohnson@tribunemedia.net
THREE men and a juvenile were taken to the magistrate's court to face charges in connection with two separate murders.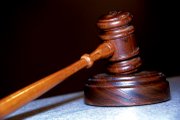 Charles Babbs, 39, of East Street was arraigned before Chief Magistrate Roger Gomez in connection with the McCullough Corner murder.
He is charged with murdering Kelsey Johnson at McCullough Corner off East Street on Friday, July 6.
The killing occurred around 11.20pm when the victim, Kelsey Johnson, got into an altercation with another man and was struck in the head with an object.
Babbs was not required to enter a plea to the charge. He was remanded to prison until completion of the trial.
The case will be forwarded to the Supreme Court for trial through a voluntary bill of indictment. That bill will be served on the accused on November 7.
Prior to Babbs' arraignment, a man, a teenager and a juvenile together faced a charge of conspiracy to commit murder.
Livingston Woodside, 19, of Homestead Street, Deangelo Knowles, 34, and a 16-year-old boy of Fleming Street were charged in connection with conspiring to murder 47-year-old Owen Rose on June 3.
Rose, of Elizabeth Estates, was found dead that night at Washington Street with gunshots in his body.
Only Woodside and the minor were charged in connection with his murder.
They were denied bail and remanded to prison until completion of their trial before the Supreme Court.
Woodside, before leaving court, was also charged in connection with a recent armed robbery.
It is claimed that on July 3, while armed with a handgun, he robbed a man of his Ford Ranger truck valued at $4,800, along with a $300 Samsung mobile phone and $207 cash.
He was further charged with receiving – the claim being that he received the truck stolen from that robbery.