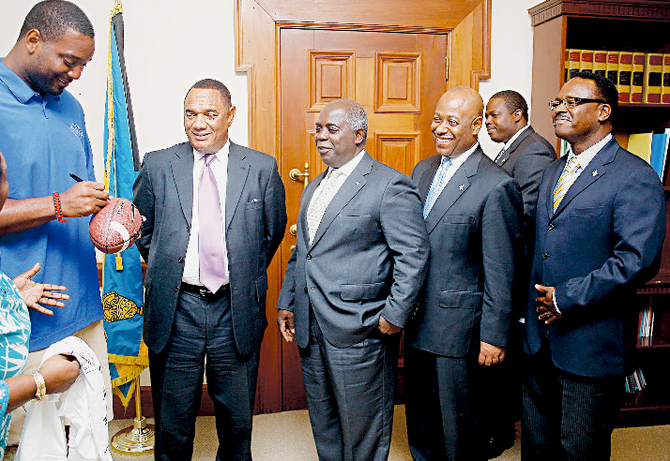 By RENALDO DORSETT
Sports Reporter
rdorsett@tribunemedia.net
BLENDING a religious message with gridiron skill, aspiring Bahamian football players were treated to days of tutoring by an elite level player who has reached the top of his profession in the NFL.
Chris Canty, in conjunction with the Chris Canty Foundation United Methodist Church, hosted a football camp at the Stapledon Field in New Providence.
Scores of young players turned out to learn about lessons both on and off the field from the Super Bowl champion.
"I have worked with a lot of these young men and they are tremendously talented individuals. I'm just glad I am able to expose them to a few of the finer points of the game and try to give them some life lessons in the process that they can take beyond the gridiron," Canty said.
"It was a really exciting experience to be down here and be of service to this community and working with the United Methodist Church on this mission trip."
Canty, a 6' 7" 317-pound defensive tackle for the New York Giants, helped the Giants pull off the upset against the New England Patriots in Super Bowl XLVI, a rematch of Super Bowl XLII. He was drafted in the fourth round of the 2005 NFL Draft by the Dallas Cowboys and spent four years with the club.
In 2009, he signed a six-year $42 million contract with the Giants.
In 2011, he registered career highs in tackles with 47 and sacks with four.
"One of the most important lessons is to let them know that you can achieve anything that you want to achieve. You just have to make it a priority and work towards it," Canty said. "I tell kids all the time you have to make sacrifices in order to achieve. Nothing worthwhile has ever been achieved without sacrifice so you just have to stay focused and driven towards achieving your goal."
Canty and members of the United Methodist Church also paid a courtesy call on Prime Minister Perry Christie at his office yesterday.
Known as much for his charitable work as he is known for wreaking havoc on quarterbacks on the field, Canty established the foundation early into his NFL career.
According to the foundation's mission statement on its website, its mandate is "dedicated to enhancing the total development of youth in our communities. Our goal is to utilise the platform of sports to affect positive change in the lives of children through mentoring, educational programmes, and physical activities thus promoting health and well-being.
"We seek to inspire our youth to be in service to our communities and our communities to be in service to our youth by providing support to these initiatives. Through your donations we are able to provide and support programmes for youth of all ages and backgrounds. As a philanthropic organisation, we identify organisations within communities of need that are in line with our mission and where we believe we can collectively make an impact. We rely on research and grass roots efforts with partners to develop solutions that will meet the short term and long term needs of youth in our communities. We work to enhance the total development of youth by working with families and neighbourhood programmes synergistically to provide avenues for children to develop their talents and gifts. We believe that creating an environment in which each child receives personal attention and support fosters a sense of value and self-confidence. It is our hope that by establishing high expectations for children, they will aspire to become true champions in life."