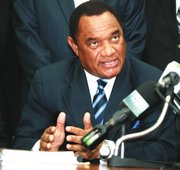 By CELESTE NIXON
Tribune Staff Reporter
cnixon@tribunemedia.net
PRIME Minister Perry Christie said the government will pass the necessary legislation to ensure all campaign promises are kept.
Mr Christie said legislation required to fulfil the remaining "first 100 day" pledges made by his Progressive Liberal Party will be tabled when the House of Assembly reconvenes July 25.
He said: "We are bringing legislation to meet the requirements of our 100-day programme. So all legislation that will enable us to meet what we said we will do in the first 100 days of our government, the legislation will come to Parliament connected with that.
"It will be a myriad of bills that we will put forward and expect to pass.
"It is coming from the Attorney Generals office and we will soon have it for Cabinet to review and then we will agree for them to go to Parliament next week."
Day one of the first 100 days was marked by the government's first Cabinet meeting. Since then, The Tribune has noted progress on five of the 14 initiatives promised during that period.
Since that first meeting, the government has: launched its Urban Renewal 2.0 programme, created a ministry specifically for Grand Bahama, re-established the ministry of Financial Service and Investments, reduced the level of stamp tax on real estate and reintroduced a ceiling on the maximum level of real property taxes payable on a residence.
The PLP's mortgage relief plan, much-anticipated by some sectors of society and strongly criticised by others, continues to be discussed, but no action has been taken.
Other promises include: increased investments in education and training, heightened border security, a re-focused Bahamas Development Bank, an Employee Pension Fund Protection Act, National Health Insurance, a plan to lower electricity costs, a 40th Anniversary of Independence National Congress, and details of a referendum on a national lottery and gambling in the Bahamas.
Opposition leader Dr Hubert Minnis has repeatedly criticised the Christie government for not moving more swiftly to enact its campaign promises.