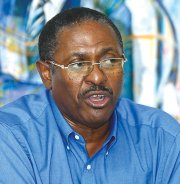 THE Progressive Liberal Party congratulated the government yesterday on its creation of the Urban Renewal Commission, promising its full support to the government project.
PLP chairman Bradley Roberts said that the party believes this policy making body is a "truly national commission" because it encompasses broad representation from civil society that will ensure the relevance of its policy formations in this "all important fight against the scourge of crime."
"The commission provides the necessary structure to facilitate the proper function of the programme and to insulate it from political interference, a charge that has dogged the programme in the past.
"The Prime Minister reiterated his commitment to the programme's independence when he said: 'So I am going to demonstrate my commitment to the programme by creating it, but stepping
back.' We in the PLP applaud this approach.
"The Prime Minister was also determined to ensure that the face of the community was represented by Urban Renewal 2.0 when he said 'we really wanted to demonstrate that if we could find someone who has been exposed to public life, who has had the experience of dealing with the inner city, who has had the experience of dealing with the young people and who has a personality capable of adaptation, being able to adjust to circumstances that are changing,' then the programme would have achieved that objective."
Mr Roberts added that the party fully supports the leadership appointed to the Commission, as Cynthia "Mother"
Pratt and Algernon Allen both meet the lofty criteria that such a body would require.
"We concur with the Prime Minister that Urban Renewal 2.0 cannot be relevant and therefore cannot succeed if it is administered with a text book approach. The education and knowledge that the police officers acquire cannot be gained through any classroom, college or university, but through their daily experiences in the communities they serve.
"These experiences must be accurately reflected in the public policies that govern Urban Renewal.
"According to Prime Minister Christie, if 'the strategies, the policies, do not embrace knowledge of what is happening, and therefore if you do not have public policy being informed properly and
accurately, it is not relevant to what is
happening. So we have to become relevant.
"The PLP believes that the Prime Minister has taken the correct structural, functional and philosophical approach to Urban Renewal 2.0 and we are confident that with the full partnership of the community, the police and the broader civil society, The Bahamas will succeed in breaking the back of this insidious twin called the scourge of crime and social decay," Mr Roberts said.