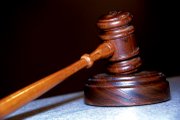 By LAMECH JOHNSON
Tribune Staff Reporter
ljohnson@tribunemedia.net
A CONVICTED armed robber was unsuccessful in his attempt to have his guilty verdict overturned.
As a result, Samuel Douglas Cleare Jr's sentencing will proceed as scheduled on July 26 at 10am.
On June 22, Cleare was convicted by a Supreme Court jury of holding up and robbing Marvin Gibson of $15, a cell phone and a radio handset that belonged to the security company the victim worked for.
The robbery took place on August 15, 2010 and Cleare reportedly owned up to the crime in a confession statement during an interview with police shortly after being arrested.
However, during the trial, he claimed he had signed the statement as true and correct only after being beaten by police.
Defending attorney Godrey Pinder, in his closing address, urged the jury not to convict his client based on a statement he described as garbage, ripping up the confession statement in the process.
The jury, after being excused by the judge to deliberate, returned a 6-3 guilty verdict.
Mr Pinder immediately made an application for a hold on the judgement and Senior Justice Jon Isaacs stood the matter down to July 9.
The defence attorney and prosecutor Roger Thompson made their respective submissions on the issue and three days later, on July 12, the judge dismissed Mr Pinder's application.