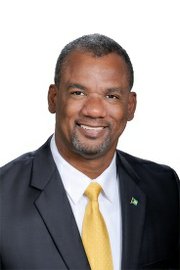 MINISTER of Education, Science and Technology Jerome Fitzgerald yesterday issued an update on school repairs across the country ahead of the new school year.
Mr Fitzgerald said he began visiting schools about four weeks ago to see the progress of repairs first hand.
In New Providence, he said: "We are well under way and in fact a number of the contractors have already completed their scope of works".
Mr Fitzgerald said although this year the individual contracts and scope of works were relatively small, as is traditional in the case for school repairs, he was "ecstatic" that the ministry was able in New Providence alone, to add around 20 new contractors to the approved list.
"In doing so, we have empowered these contractors and given them an opportunity to be re-engaged in the construction field where in some cases they have indicated that they have not worked in many years.
Of the 74 contractors engaged for the school repairs, 47 have not done any work for the ministry in the previous five years," said Mr Fitzgerald.
"My ministry will continue to ensure that the widest possible participation of small and medium sized contractors engaged in the ministry's maintenance, minor repairs and capital works."
This year, with the assistance of some members of Parliament, the ministry was able to ensure that for the most part, the repair work was done by contractors who live near each school.
This, according to the minister, resulted in many local young men being hired who would have otherwise been idle.
Mr Fitzgerald said around $4.5 million will be spent on school repairs this summer, adding that the ministry estimates this will provide employment for about 800 persons – 400 in New Providence, 200 in Grand Bahama and 200 hundred throughout the Family Islands.
The money will be spent as follows:
• New Providence – $3,200,000
• Grand Bahama – $600,000
• Family Islands – $650,000
Mr Fitzgerald added: "The allocation to Grand Bahama is about 25 per cent greater than last year due mostly in part to the poor physical condition of certain schools I witnessed during my visit there".
Allocations to Family Islands were also increased to facilitate necessary repairs due to damage caused by Hurricane Irene.