By LAMECH JOHNSON
Tribune Staff Reporter
ljohnson@tribunemedia.net
THE retrial of a man accused of murdering a policeman came to an end yesterday, this time with the accused being convicted of the Independence Day killing.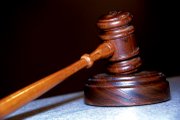 Pachino Lundy had been on bail for nearly a year after his first trial in 2011 was declared a mistrial, due to an 11-1 guilty verdict by the last jury that heard the evidence before Justice Roy Jones.
However, after Justice Jones summed up the evidence and excused the jury to deliberate on Lundy's fate, the 12-member jury returned unanimously convinced that Lundy had murdered Police Constable Henry Curry outside the Odley Kemp Bar Independence morning 2005.
The off duty constable had been outside the northern East Street bar on Sunday morning – July 10, 2005 – when he was shot in the back.
Prosecutor Anthony Delaney alleged that Lundy was responsible for the shooting death of the police officer at the bar around 2am before making his escape from the scene in a black Chevy Monte Carlo.
During the trial, two key witnesses, one a motorist passing in the area, and a relative of the victim who was at the club, testified that they saw the incident happen and pointed out Lundy in court as the culprit.
Lundy, from his arraignment in Supreme Court to the conclusion of both trials, maintained his innocence in the matter.
However, according to defending attorney Bernard Ferguson, the jurors thought otherwise, and the "jury said what they had to say."
Henry William Curry II, father of the deceased, meanwhile when asked about the verdict, said he long ago left the matter in God's hands.
"From the incident happened seven years ago, I said I put that in God's hands. So I never made no decision on that."
"Seven is a biblical number. Seven days of the week, seven candle sticks. Seven years of famine, and we at seven years of famine."
When asked, "what happens now?" for his family, he said: "Well I guess we now knit back up, put that in the back of us and go on with our lives. He (Henry Curry III) has a little daughter– she was three when he died – we now have her to carry on with her life and make her goals come true."
Lundy is now behind bars on remand waiting to be sentenced for the murder. On August 27, a probation and psychiatric report will be presented to the court before sentencing is passed on him.