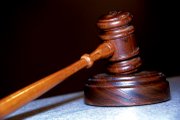 A FARRINGTON Road woman was sentenced to serve four years in prison yesterday in connection with a failed attempt to export 13 ounces of marijuana on Friday, July 13.
Garcia Sasha Hanna, 22, of Cargill Lane, did not waste the court's time when she was arraigned before Deputy Chief Magistrate Carolita Bethell in Court 8, Nassau Street.
She pleaded guilty to two drug charges against her – possession of dangerous drugs with intent to supply and taking preparatory steps to export dangerous drugs.
She tried to take 13.3 ounces of Indian Hemp out of the country but was caught by airport officials.
The drugs were worth $1,995.
Considering her prompt admission of guilt, the size of the drug find and her lack of previous charges, the deputy chief magistrate imposed the minimum punishment.
Hanna will spend her four years in the medium security section of Her Majesty's Prison.