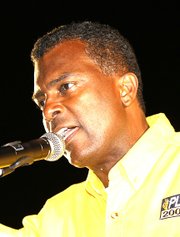 By DANA SMITH
Tribune Staff Reporter
dsmith@tribunemedia.net
IN AN effort to curb illegal migration, members of Parliament will be looking at amending laws concerning the harbouring of illegal immigrants, possibly as early as next week, according to Minister of Foreign Affairs and Immigration Fred Mitchell.
Mr Mitchell said he met with Haitian officials to discuss how to stem illegal migration, and that they also discussed trade potential between the two countries.
He said: "We are looking to amend laws to make harbouring illegal migrants a serious offence with serious penalties. That should be coming perhaps as early as next week when the House resumes. Debate will take place on the floor because we want some public discussion about the matter."
The Bahamas is also hoping to engage the Haitian government in discussions on allowing "intelligence officers" to operate in Haiti in an effort to combat human trafficking, he said.
"They've expressed an interest in pursuing it," Mr Mitchell said. "We would like to do so because we believe that if we are allowed to have intelligence officers in Haiti, we can probably stop the smuggling or put a big dent in it from the north."
However, the minister said Haitian officials are more interested in talking about trade between the two countries.
Mr Mitchell said Haiti wants current protocols which prevent agricultural goods from being imported from Haiti to the Bahamas, to be changed.
They argued it would help spur their economy and thus potentially reduce illegal migration.
Mr Mitchell said the two governments have been trying resolved the protocol issue "for a long time".
"In fact, a memorandum of understanding was signed between the two countries I believe back in 2007," he said.
"The last minister of agriculture had announced that he was dedicated to removing it. There was even an announcement that customs officers would be stationed in Haiti to help with the inspection of the goods.
"Because Haiti now exports mangos to the United States, we can only get them by getting them through the States and it's believed that if we get them directly, it'll be cheaper.
"Their argument is that would help them in trying to improve the economy of the north of Haiti and that's the area from which migrants come to this country illegally. We repatriated 200 of them this week – 100 went out this morning (and) 100 went out the day before yesterday. So this is a really serious problem for us. We are committed to seeing how we can get that resolved."