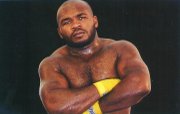 By BRENT STUBBS
Senior Sports Reporter
bstubbs@tribunemedia.net
Not since 2001 when he was pegged at No. 18 in the International Boxing Federation has heavyweight Sherman 'The Tank' Williams had a world ranking. His triple crown title win over Chauncy Welliver in Macau, China, on June 28 has propelled him to No.12 in the World Boxing Organisation.
"I'm officially a WBO contender," he said. "I'm off the block now as a journeyman and now officially a contender."
Just yesterday, the latest rankings were released and as a result of Williams' 12-round decision over Welliver for the WBO China Zone, Interim WBO Asia Pacific and Interim WBO Oriental heavyweight titles, he is on the list headed by Russian champion Wladimir Klitschko, who also holds the WBA and IBF titles.
"Once you're in the top 15 you are eligible for a world title fight," said Williams when contacted yesterday after the good news. "If Wladimir chooses, he could end up fighting me, but unfortunately, I don't think he will hit me because of the shots he took from me during our sparring sessions."
Whether or not Wladimir gives him a shot, Williams said he's just blessed to have gotten the ranking after such a big victory.
"It's a great position to be in," Williams said. "The race is not for the stiffest, but to those who endure to the end. Delay is not denial and thank God I'm a heavyweight. George Foreman regained his championship title for the third time at age 46, Bernard Hopkins just became a heavyweight champion for the fifth time at 45, so I'm 39 and I'm very motivated because they say heavyweights mature slower."
Williams, who improved his win-loss-draw record to 35-11-2 with 19 knockouts, said he's feeling much better than he did when he was just basically getting started in his professional career back in the late 1990s after completing an amateur sting that just fell short of him competing at the Olympic Games in 1996 in Atlanta, Georgia.
"I believe now is the time," said a confident Williams who, had he beaten Obed Sullivan on May 20 at the Belterra Casino Resort in Elizabeth, Indiana, for the vacant NABF title, he would have climbed from No.18 into the top 10, but he eventually lost in a 12-round split decision.
"This is great, not just for me, but for the Bahamas and the fighters in the Bahamas who have been around for such a long time waiting for their breakthrough. Hopefully I can set the tone and get everybody else in a position that they will be able to contend for a world ranking as well."
While there are still plans to try and get Williams back into the ring for his next fight, his manager Si Stern said he's working hard on the possibility of having a fight staged here in the Bahamas, either in New Providence or in his backyard in Grand Bahama.
"This is a great achievement for Sherman, so we hope that the Bahamian people will now capitalise on his popularity as the people here in Florida are doing for him right now," Stern said. "He's really coming into his own and we hope that the Bahamas will do something significant for him too."
On his return to Vero Beach, Florida, where the Grand Bahamian native calls home, Williams and his wife Kimberly, along with his daughter Simone, were féted to a reception by some of the big names in the city. The event was appropriately held on Tuesday, July 10 (Independence Day).
Williams is now preparing for another celebration as he is expected to be honoured July 28 in Key West, Florida, where he will be given honourary citizenship and inducted into the Conch Republic Hall of Fame in Key West, Florida, along with Randall Bailey, the new IBF welterweight boxing champion of the world, and former light-heavyweight champion Glen Johnson.